My Strength is My Story with Dr. Meg Meeker, Hero: Being the Strong Father Your Children Need".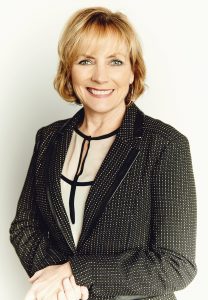 Dr. Meg Meeker: A wife of 36 years, a mother of four children, and a grandmother of four. Dr. Meeker is the country's leading authority on parenting, teens, and children's health. She has served as a co-host of Dr. James Dobson's nationally-syndicated daily radio program, Family Talk, and has appeared on national programs including TODAY, FOX & FRIENDS, Dateline, NPR, Psychology Today, The Huffington Post, Oprah Radio and many more.
Meg Meeker, MD, is a Fellow of the American Academy of Pediatrics, certified by The American Board of Pediatrics and serves on the Advisory Board of The Medical Institute.
Dr. Meeker is an active part of the NFL's Fatherhood Initiative, and is a regular speaker at Dave Ramsey's Smart Conferences.
"We need to know who we are behind our kids' eyes." ~ Meg Meeker, MD
Enjoy the multitude of topics discussed including love, strength, feelings and life management! Be inspired and encouraged to keep raising your spiritual potential.
Speaking on behalf of kids
Happiness
Encouragement
What kids need from us?
Pediatrics
Family
Hurt and Pain
Hope and Encouragement
Why fathers?
CHargers
I've got this!
How are Dads portrayed?
A Father Crisis
Make Room for Dad
Control
Feminism
Shearing off your Identity
Deeply Wounded
How to navigate relationships
God is Called Father and So are You
The Hero
The complimenting of the Male & Female
The Mission
The Bond of the Father
Marriage
Truth
Respect
Gratitude
Why are Dads important?
Foundation
Value of Human Life
Significance of Human Life
Live in Bitterness
Forgiveness
Anger
Leadership
Live the right way
Teachable moments
Tell the Truth
Serve with them
Medical Missions
Take the high road
Break the cycle
Dad and Dementia
Does God forgive me?
"A lot of what I speak about was shaped through my experience as a mom and what I was concerned about with my kids." ~ Meg Meeker, MD
Quotes and statements within the interview:
"The best thing I could do for the kids is to help their parents."
"It's really a privilege to get to hear somebody's hurts, and fears, and worries, and pains."
"I'm a middle-age, white grandmother.
"We were trained to go!"
"What I tended to do was to push my husband out of the way."
"Dad's aren's getting much encouragement."
"As a mom, I was undermining my husband."
"We have incredible power in these mens' lives."
"We've got to be careful not to mow over people."
"There's nothing more controlling than a loving mother."
"Life is so much easier when you just surrender territory and power."
"We do need God  and we do need our husbands."
"A lot of women don't want anything to do with God, the Father."
"It's our woundedness that is really crushing a lot of the issues in our families."
"I think the fact that God chose men to share a name with His is incredible!"
"We as women need to really respect that."
"God also gave Dads all the wiring they need to live that out."
"Your child looks up to that man and sees authority, a knowledge, and a power that mom doesn't have."
"I know to my daughters I'm a hero to some sense, but their Dad is their hero in a bigger sense."
"Here's the cool thing; he still has all the wiring. No one has put electricity to it."
"I really want to start to ignite some serious conversations about the importance of fathers, because no one is having them."
"The worst thing you can do as a mother for your relationship with your kids is to criticize their dad."
"What is right is to help men."
"Out of our strength, we're going to respect others because that's exactly what Jesus did."
"If you want better back, start there. Don't keep doing what you're doing."
"What give you more value?"
"Nothingness cannot create significance."
"Why do your assume you're not doing things well?"
"A leader walks in front and carves the path and lives in such a way that says, 'follow me'."
"Learning how to speak to people changes how you thing about people and how you treat them."
"Come along with me, and I'll show you."
"Make sure you tell your kids opportune things at the opportune times. Don't miss these moments."
"Let them see you refuse to lie."
"Whatever they see, they become."
"You can in a very real way, help your child have what you may not of had."
"Am I forgiven?"
How do you know if you're doing it right?
Reconcile the father/dad wounds. Forgive and release.
How has God loved you? Turn and give it to your children.
What has your story gifted you?
"Because when you're willing to see what's true and you embrace that truth (even though it's very, very hard and it requires you to change). When you change, that give you more power. And it give you more freedom."
Resources mentioned in the episode:
"One step at a time leads to miles of greatness!"
Ready to see if coaching and a mentorship is for you? It's time you TAKE A.I.M. ~ Action Ignites Motivation. This is FREE for you. Stop trying to do it by yourself. Invest in YOU! You are worth the time!!!
ANNOUNCEMENT: Ready to shine your light and tell your story. Please click on MY STRENGTH IS MY STORY. Here you can submit yourself to appear on the podcast or make recommendations as who you would like to hear. This is going to be a beautiful series!
Watch CREATE YOUR NOW TV on YouTube.
Listen to Create Your Now on iHeart Radio. Click here.
The Create Your Now Archives are LIVE!! You can subscribe and listen to all the previous episodes here.  http://bit.ly/CYNarchive1 and http://bit.ly/CYNarchive2
Music by Mandisa – Overcomer
http://www.mandisaofficial.com
Cover Art by Jenny Hamson