My Strength is My Story with Michele Cushatt, I Am. She's a successful speaker and author of Undone and her brand new book I Am: A 60 Day Journey to Knowing Who You are Because of Who He Is. She has an empathetic heart for those in tough places as she's battled cancer three times! "From the moment a woman wakes until she falls, exhausted, onto her pillow, one question plagues her at every turn: Am I enough?"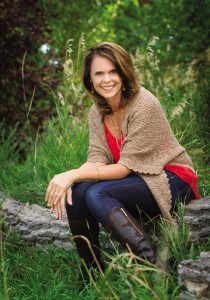 Michele Cushatt: A devoted wife to Troy of 16 years, and a mother of 6 children; Michele keeps active with as a successful speaker and author who shares the bold and beautiful truth in the crossroads of REAL faith and REAL life.  She speaks at Women of Faith conferences, Compassion International, Focus on the Family, and Hearts at Home.
You may recognize her voice as the co-host to two very popular podcasts: This Is Your Life with Michael Hyatt, and Communicator Academy with Kathi Lipp.
"

For whoever wants to save their life will lose it, but whoever loses their life for me will save it.

" ~ Jesus (Luke 9:24)
Enjoy the multitude of topics discussed with real blunt honesty. You'll discover many gems of wisdom throughout this coffee chat. Sit back and let your heart hear the whispers from God in Michele's story!
Entrepreneur
Faith at a young age
Good woman, Good person
God owed me!
Divorce
Preconceived notions of Faith
Pain
Blinders
Eyes to see
Single motherhood
Friendship over common stories
Blended Family
The BIG "C"
Squamous Cell Carcinoma (Cancer of the Tongue)
What is God doing for you?
Fear
1-2-3 strikes you're out!
Surgery
Half Marathon
Cancer return
Chemotherapy and Radiation
Death
Identity
Confidence
Security
Self-sufficiency
Control
Change
First-born Type A personality
Grueling and Painful Discovery
Welcome Mat of Suffering
Pain, suffering, and loss
Scanning the Bible
Roots
False Security
I am SEEN
Teacher crush
Insecurity
I am WELCOME
Reassurance
Work-based Faith
I am RESCUED
Control
Psalm 91
Grief
Feelings
On the Cross
Truth trumps Lies
I am GOING HOME
Daddy's Love
Comforting Truth
Chocolate Chip Cookies
No magic powers
"Me Time"
Non-negotiables
Quotes and statements within the interview:
"He equally drive me crazy and delights me every single day!"
"The secret to peace is finding eyes to see."
"We don't like anything that makes us uncomfortable.""
"Seeing the world as a whole from God's advantage point."
"I felt like a steak on a vegetarian's table!

"
"He has rebuilt my faith to a place that I believe very confidently in Him."
"I didn't lose my faith, I just didn't understand the WHY."
"The fear is a BEAST!"
"The woman I used to be was gone."
"… trying to come back to life and discover who I am."
"Basically, this whole book became like a very big and painful mirror to look into."
"I was far more secure in myself and in my ability to work hard and make things happen."
"Where does my security and identity come from?"
"A security I create isn't security at all."
"Once everything has been stripped from your hands, your hands are finally free to hang on to what really matters most."
"If you can lose it, it's not who you are."
"I was such an awkward grade schooler."
"I will never out grow God's classroom."
"We equate the presence of pain with the absence of God."
"Jesus' pain on the cross is a promise of God's presence with us."
"My Dad literally finally found himself in Christ."
"Every day is just gravy."
What would you say to those hanging on by a thread, as if on life support?
Read ONE TRUTH every day.
Soak it up with all you have.
Michele's "ME TIME" Daily Routine
Wake up early at 5:30 for quiet time
Exercise
Ready the family for the day, including the children off to school
Work and Nap from 9:00am to 4:00pm
Fully present for family during the evening
What has your story gifted you?
"The story God has given me is the best gift He's ever given me."
"He has used my story to rebuild my faith and to make it far more unshakeable than it used to be.
Establish confidence in the gospel.
Awareness of His presence.
All of the gifts came at the cost of suffering.
Resources mentioned in the episode:
Zondervan is world leading Bible publisher and provider of Christian communications. Zondervan, part of HarperCollins Christian Publishing, Inc., delivers transformational Christian experiences through its bestselling Bibles, books, curriculum, academic resources and digital products. The Company's products are sold worldwide and translated into nearly 200 languages. Zondervan offices are located in Grand Rapids, Michigan.
"One step at a time leads to miles of greatness!"
Ready to see if coaching and a mentorship is for you? It's time you TAKE A.I.M. ~ Action Ignites Motivation. This is FREE for you. Stop trying to do it by yourself. Invest in YOU! You are worth the time!!!
ANNOUNCEMENT: Ready to shine your light and tell your story. Please click on MY STRENGTH IS MY STORY. Here you can submit yourself to appear on the podcast or make recommendations as who you would like to hear. This is going to be a beautiful series!
Music by Mandisa – Overcomer
http://www.mandisaofficial.com
Cover Art by Jenny Hamson