My Strength is My Story with Ryan Hall, Run the Mile You're In
Can you imagine what it would be like to live out your God-given purpose? Ryan Hall shares the joys and trials of his purpose, running, and the treasures he discovered along the way.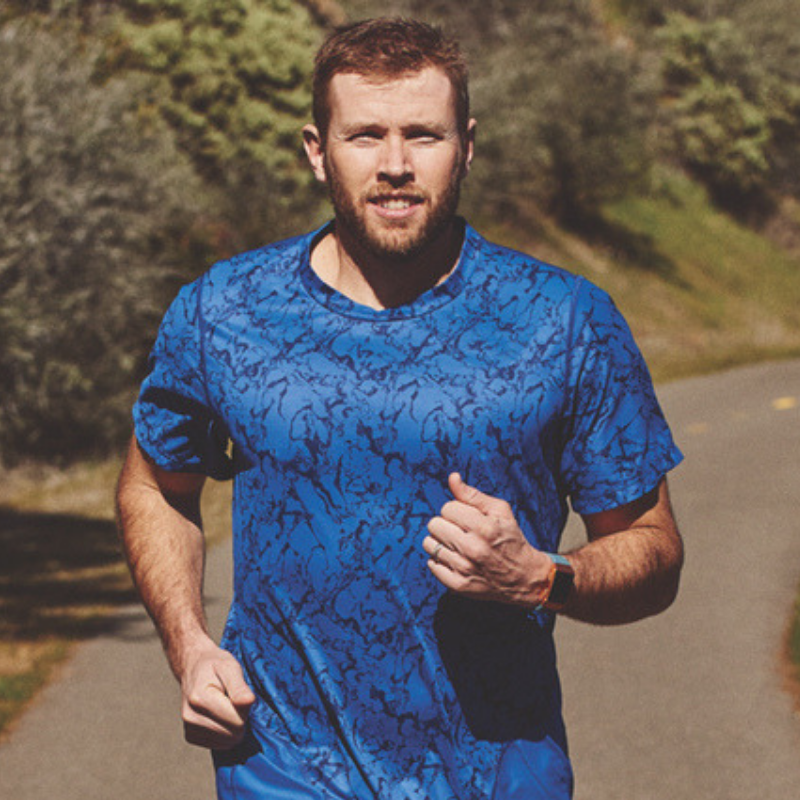 Ryan Hall is a husband of 13 years to his beautiful wife, Sara. And the father to their 4 precious daughters adopted from Ethiopia.
However, you may recognize Ryan's name form the 2008 and 2012 Summer Olympic Games. He represented the United States of America as a marathon runner.
Ryan is the American Record holder for the half marathon (59:43) and has the fastest marathon time ever run by an American, with a Personal Record of 2:04.
When he's not running after his girls, Ryan is coaching and speaking. Plus, he's a brand new author of his new book, Run the Mile You're In: Finding God in Every Step.
"I'm a lot better at hearing God when I'm physically exhausted." ~ Ryan Hall 
Enjoy the multitude of topics discussed including Big Bear Lake, the Olympics, doubt, and identity, plus so much more.
Laughter
Big Bear Lake
Listening to God
The Vision
A Miler
Stanford
Stubbornness & Pride
Goals set in concrete
Pursuit & Commitment
Weight-lifting
Patience
Personal excellence
Amnesia
Failures
Beijing Olympics
Encouraging
Love
Comparison
Middle Child Syndrome
John 21
Doubt
Mile 12
Negative Thoughts
Discipline
Connect with God
The global stage
A little taste of Heaven
Faith-based Coaching
The gold medal
Identity
The finish line
"We experience God within our passions, because He's the one who gave us those passions." ~ Ryan Hall
#MyStrengthIsMyStory #CreateYourNow #RyanHall
Quotes and statements within the interview:
"I'm just kind of like a silly person in general."
"We both put on our running shoes the next weekend (I put on my basketball shoes, he was a runner — so he had running shoes) and embarked on a very, very long, super painful, super slow 15-mile journey around the lake."
"I felt like God was telling me, 'I've given you a gift to run with the best guys in the world and I gave you that gift so you can help other people.'"
"But I would reflect back and be like… have I accomplished that vision I feel like God gave me to run with the best guys in the world and to help other people? And if the answer is 'No,' I need to keep moving forward."
"God designed me to run to like run half marathons and marathons."
"But it was more like the pursuit of the goal, that's where the emphasis was."
"I do have a goal. I'm 26 now and I want to try and bench 405 pounds by the time I'm 40."
"Change takes time."
"I can always develop my gift to the fullest ability."
"I take my failures very personally."
"It was a very hard, grindy, disappointing race up until about the halfway point."
"Oftentimes when I'm suffering, I'm focused on myself, and all my thoughts become intrinsic."
"Looking back on it now, it was a huge success even though you know I was tenth place and not on the podium."
"We are also at our best when we're functioning in love, in His likeness, which is love."
"That 'You follow me!' just like grabbed my heart, because it's so convicting for me."
"I'm subscribed to going after excellence."
"And what I've kind of learned to do with those negative thoughts is to flip them around; use them as cues to declare the opposite of those thoughts."
"The discipline came from just love of the pursuit."
"Fall in love with the pursuit and the journey."
"My faith spills over into my running."
"I just experienced God in such sweet ways during that time. And I feel like He helped me navigate the trickiest season of my life."
"As a Christian athlete, we can compete totally free from performance burdens, from pressures and all the things I've experienced that bogged me down in my career, like I could get free of that just with this one reality that I already have the gold medal; and that gold medal is know Jesus."
What has your story gifted you?
"I'm a big dreamer. And as a big dreamer, you have to develop your resilience, because there's gonna be a lot of failure along the way."
Resources mentioned in the episode:
"One step at a time leads to miles of greatness!"
Ready to see if coaching and a mentorship is for you? It's time you TAKE A.I.M. ~ Action Ignites Motivation. This is FREE for you. Stop trying to do it by yourself. Invest in YOU! You are worth the time!!!
ANNOUNCEMENT: Ready to shine your light and tell your story. Please click on MY STRENGTH IS MY STORY. Here you can submit yourself to appear on the podcast or make recommendations as who you would like to hear. This is going to be a beautiful series!
Subscribe to Create Your Now TV on YouTube.
Listen to Create Your Now on Spotify.
Listen to Create Your Now on iHeart Radio. Click here.
The Create Your Now Archives are LIVE!! You can subscribe and listen to all the previous episodes here.  http://bit.ly/CYNarchive1 and http://bit.ly/CYNarchive2 and http://bit.ly/CYNarchive3 and http://bit.ly/CYNarchive4 and http://bit.ly/CYNarchive5
Contact me at YourBestSelfie@CreateYourNow.com
Instagram
@CreateYourNow
@Kristianne Wargo
Twitter
@KristianneWargo
@CreateYourNow
Facebook
www.facebook.com/TheKISSCoach
www.facebook.com/CreateYourNow
Cover Art by Jenny Hamson
Music by Mandisa – Overcomer
http://www.mandisaofficial.com
Song ID: 68209
Song Title: Overcomer
Writer(s): Ben Glover, Chris Stevens, David Garcia
Copyright © 2013 Meaux Mercy (BMI) Moody Producer Music (BMI)
9t One Songs (ASCAP) Ariose Music (ASCAP) Universal Music –
Brentwood Benson Publ. (ASCAP) D Soul Music (ASCAP) (adm. at CapitolCMGPublishing.com) All rights reserved. Used by permission.