My Strength is My Story with Cori Salchert, I Will Love You Forever: A True Story about Finding Life, Hope, and Healing While Caring for Hospice Babies.
Cori Salchert shares her story of finding life, hope, and healing while caring for hospice babies in her new memoir, I Will Love You Forever.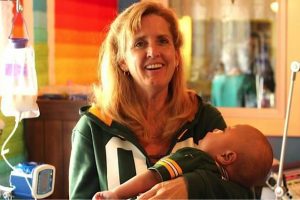 Cori Salchert:  She is a wife of 30 years to Mark, and mother to their 8 biological children. As a registered nurse and a former perinatal bereavement specialist, she understands the challenges that hospice babies face with medically life-limiting or terminal diagnoses.
Cori opens up her home, House of Hope, to these precious lives to love them and give them life before they are received by God in Heaven. She is an angel on earth!
"I mean it with my whole heart when I say I love these children who have been given to us for just a little time on earth, and I will indeed love them forever. We invest deeply, and we ache terribly when these kiddos die, but our hearts are like stained glass windows made of broken glass that has been bonded back together. Those windows are even stronger and more beautiful for having been broken." ~ Cori Salchert
Enjoy the multitude of topics discussed including foster care, safe haven laws, guilt, rejection, and the unredeemed. Open your heart and may God begin to create beautiful stained glass windows.
Daily routine
Results-oriented
Family life
Sister Amie
Empathy
American Fork Institute
Rosemary Kennedy
Growing up
Magical thinking
Failure
Abandonment
The drowning
Guilt
Healing
Writing
Emmalynn
Seizing
Mindset
Refining process
Peter in the Bible and sifting
Natural gifting
Grace
Safe Haven laws
Heart for hospice
House of Hope
Foster care
Quality of life
Fear
Charlie
Hope beyond the grave
Unconditional love
Raw courage
The Psalms
Limitations
Wisdom
"I will love you forever!" ~ Cori Salchert
Quotes and statements within the interview:
"All that preparatory work God had to do in my life was to get over a results-oriented process."
"God has brought me to a place because it was necessary in order to have empathy for my mother and not just sympathy."
"I know what it is to not wait successfully. I know what it is to wait and be chasing at that and hating every minute and praying for deliverance and it not coming."
"It's a teachable moment for parents to step up and say, 'You know what? We're not all the same and just because he's different doesn't mean he's bad.'"
"But as a child, you make everything about you. And I thought surely, I had failed somehow to be able to help enough with Amie that we could keep her home."
"I sort of made a choice to harbor that hurt and that wound, and I didn't necessarily desire healing because I had my terms."
"It may be unfulfilled, it may be unrestored, but anything that's shattered that's laid before the Lord just watch and see. It will not be unredeemed." ~ Selah (Unredeemed, song)
"I just vomited the messes at He's feet."
"God did it!"
"So if I'm gonna be truthful, I was afraid to ask."
"The book, for me, has been such a gift."
"But I don't believe God has brought us into doing this to see us destroyed."
"Put your hands down girl; they're gonna think you're Pentecostal."
"Worse case scenario was no longer worse case scenario."
"My purpose is to refine that gold so that she can come out on the other side." (God speaking)
"Those safe haven laws are a gift."
"It's not an official name, simply because this is not a house of death."
"You're touched, and you're loved, and you're known."
"I'm not trying at this point in time not to be preaching so much with words, but living a life that gives testimony to the fact that there is something greater than fear."
"Courage is not the absence of fear. It's just the determination that something greater is at stake."
"They're worth it; somebody needs to be crying!"
"If there's no hope beyond the grave, it's just sad."
"I can't see that there's any good in this, but I'm gonna trust that just because my perspective is so limited."
"God is good. God is faithful."
"If it's concerning your heart, it matters!"
What has your story gifted you?
Opportunity to take God at His word
"The opportunity to take God at His word that He says that, 'I am with you, I will never leave you, nor forsake you.' And I get to experience that up close and personal."
Resources mentioned in the episode:
"One step at a time leads to miles of greatness!"
Ready to see if coaching and a mentorship is for you? It's time you TAKE A.I.M. ~ Action Ignites Motivation. This is FREE for you. Stop trying to do it by yourself. Invest in YOU! You are worth the time!!!
ANNOUNCEMENT: Ready to shine your light and tell your story. Please click on MY STRENGTH IS MY STORY. Here you can submit yourself to appear on the podcast or make recommendations as who you would like to hear. This is going to be a beautiful series!
Watch CREATE YOUR NOW TV on YouTube.
Listen to Create Your Now on iHeart Radio. Click here.
The Create Your Now Archives are LIVE!! You can subscribe and listen to all the previous episodes here.  http://bit.ly/CYNarchive1 and http://bit.ly/CYNarchive2
Music by Mandisa – Overcomer
http://www.mandisaofficial.com
Cover Art by Jenny Hamson