My Strength is My Story with Sarah Ball, Fearless in 21 Days.
Sarah Ball found deliverance from mental illness and shares her inspiring story on how to be Fearless in 21 Days.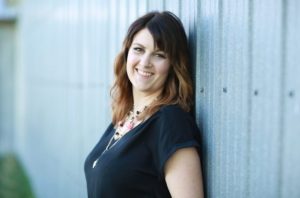 Sarah Ball:  She is a wife of 12 years to Mark and mother to 5 children. As a blogger, speaker, and now author, she uses her platform to minister to people suffering from crippling anxiety disorders, panic disorders, and depression.
"God has so much compassion for people who are struggling with mental illness; so much compassion."
~ Sarah Ball
Enjoy the multitude of topics discussed including panic attacks, anxiety disorder, OCD, depression, single motherhood, meditation, and the nothing box.
Jeremiah 29
Social butterfly
Old musicals (Singing in the Rain)
Stressful season
Postpartum exhaustion
Perfection
911 Call
"In your head"
Anxiety
Depression
OCD
Slow healing
Definition of anxiety
Physical emotions
Fear
Panic attack
Ministry
Compassion
Burnout
Son on Life Support
Single mom
Welfare
University
Marriage
Growing the family
Guilt
Impact on children
Israelites & bondage
Coping
Temptation
Leap of Faith
Day 9 – Biblical Meditation
Nothing Box
Day 12 – Healing the Past
Forgiveness
Pain
Resilient attitude
Abuse
Abandonment
Grief & Anger
The honor of pain
Restoration
The old you
Support from husband
Rest
Celebrating
Take care of you
Kick in the butt
Day 5 – Rest
Set up for Failure
Pinterest Perfect
Discontentment
Striving
Morning Routine
"We have a really hard time sitting still and knowing that He is God." ~ Sarah Ball
Quotes and statements within the interview:
"I'm a sucker for old black and white classical musicals."
"How often do we want to burst out in song in public? I know I do."
"I've had panic attacks before, like in the past during sort of you know a traumatic moment. But it was one."
"And then is escalated to the point where I thought I was going to die."
"And then when I woke up in the morning, basically it didn't go away. And next thing you know I was having 5, 6, sometimes 8 panic attacks a day."
"We often think if we've never experienced it, often there's this judgement of it's just an emotion of excessive worry."
"So I had a lot of disrespect to be honest towards people who struggled with anxiety, cause I was a "suck it up princess" kind of person."
"It's literally like the light just goes out; it just burns out."
"You can only build that foundation for so long on your own strength. It catches up with you."
"I would never ever trade that experience because the depth of m relationship with God at that time was SO profound and so beautiful."
"The guilt that you feel for bringing your family through that is really immense, because you're very disabled."
"Meditation belongs to Him that was God's creation, his design, right."
"I found the nothing box!"
"And sometimes we as Christians shove it down with a lot of positivity and Christian quotes."
"This pain was so fresh and so real like it had happened yesterday."
"But I needed to sort of come to the reality of what happened to me and actually feel it."
"But we don't get to the restoration part, which means we get more back than what we lost; which means we have more victory than what we went in with, which is the beautiful picture of when God redeems."
"He was seeking the Lord on my behalf."
"It's this evil thing where we have this will, this drive to strive for the approval of God, our parents, our in-laws, our husband, our children, and ourselves."
"Anything that was motivated in striving, people-pleasing, or guilt was off the list."
How to escape the bondage?
Awareness

Staying connected to God
Know your purpose
Seeking and understanding freedom

Recognize bondage
Seek God's love first.
What has become your greatest reward in becoming fearless?
I don't waste time getting to the presence of God.
God loves me.
What has your story gifted you?
Vulnerability
Heart connection
"My story has gifted me the gift of vulnerability."
"The gift of connecting to people at a real level."
"It brought me back to love."
Resources mentioned in the episode:
"One step at a time leads to miles of greatness!"
Ready to see if coaching and a mentorship is for you? It's time you TAKE A.I.M. ~ Action Ignites Motivation. This is FREE for you. Stop trying to do it by yourself. Invest in YOU! You are worth the time!!!
ANNOUNCEMENT: Ready to shine your light and tell your story. Please click on MY STRENGTH IS MY STORY. Here you can submit yourself to appear on the podcast or make recommendations as who you would like to hear. This is going to be a beautiful series!
Watch CREATE YOUR NOW TV on YouTube.
Listen to Create Your Now on iHeart Radio. Click here.
The Create Your Now Archives are LIVE!! You can subscribe and listen to all the previous episodes here.  http://bit.ly/CYNarchive1 and http://bit.ly/CYNarchive2
Music by Mandisa – Overcomer
http://www.mandisaofficial.com
Cover Art by Jenny Hamson