My Strength is My Story with Chelsea Crockett, Your Own Beautiful
Chelsea Crockett shares her advice and inspiration in her brand new book, Your Own Beautiful. You can watch her on her YouTube Channel, BeautyLiciousInsider, which she started at the age of thirteen.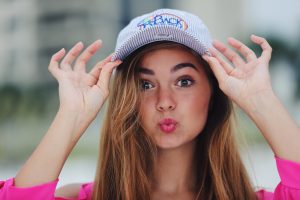 Chelsea Crockett:  A vivacious, fun-loving, Christ-centered woman found herself experiencing life in front of thousands. Almost 3 million fans later, Chelsea is only getting started. With curls in her hair, a smile on her face, and her beautiful grace, what shines the brightest is her inspirational guidance influenced by her faith and life experiences.
"I like calling my subscribers, friends, because that's what I believe they truly are."
~ Chelsea Crockett
Enjoy the multitude of topics discussed including long distance relationships, negativity, gymnastics, dolphins and balance. Get ready for some incredible refreshment!
Book Launch
Beauty Sleep
Long distance relationship
FaceTime and Cooking
Testimony and the bathtub
DNow
YouTube
Faith Videos
Teen Rebellion
Big dreams
Gymnastics
Why YouTube?
NYX Competition
Charis
Suicide
What is your drive to talk about your faith?
Positive messages
Sibling videos
Balance
Prioritize
Reality Check
Harmony
California and college
Anxiety
Depression
Mom & Dad
What would you tell your older self?
Travel
Cookies
Impact
How to draw closer to God?
Prayer
Dilegence
Confidence in God
The Book of Job
Jeremiah 29:11
Hope
Moving
Why this title?
Personal struggles
My audience
"I silence the enemies lies with truth."
~ Chelsea Crockett
Quotes and statements within the interview:
"I was in my bathtub and I said, 'Mom – Dad, I want to accept Jesus into my heart."
"We're each vulnerable and God truly just wants to be apart of our lives."
"Any feedback in general is good."
"I just enjoy having friends on the internet. I like calling my subscribers friends because that's what I believe they truly are."
"I was sad that I made those decisions. But at the same time, I was thankful for that time because it shaped me who I was meant to be."
"I pursued other things; and I think that sometimes what you have to do."
"I was watching comedy videos like crazy around that time."
"When it comes down to it, this is not our home."
"My drive just comes from just knowing this earth is not our home."
"You can't really find balance."
"I know the most important relationships in my life and I know the most important relationship in my life, and that's my relationship with God."
"Balance is a foreign word."
"Sometimes we feel the need to shy away from talking about that (anxiety and depression) too, because there's so much stigma around it."
"God's not a feeling."
"Well, I think we just have to pray with expectancy and that His will is the best no matter what."
"Sometimes, life is truly not fair."
"Truly to find your worth in what Christ says about you."
"The number one important thing is the most important relationship in your life."
How do you begin to value YOU for who you are in Your Own Beautiful?
Starts from within.
Stay grounded.
Stay focused.
What has your story gifted you?
We all should share our story.
"The ability to share my story with the world."
Resources mentioned in the episode:
"One step at a time leads to miles of greatness!"
Ready to see if coaching and a mentorship is for you? It's time you TAKE A.I.M. ~ Action Ignites Motivation. This is FREE for you. Stop trying to do it by yourself. Invest in YOU! You are worth the time!!!
ANNOUNCEMENT: Ready to shine your light and tell your story. Please click on MY STRENGTH IS MY STORY. Here you can submit yourself to appear on the podcast or make recommendations as who you would like to hear. This is going to be a beautiful series!
Watch CREATE YOUR NOW TV on YouTube.
Listen to Create Your Now on iHeart Radio. Click here.
The Create Your Now Archives are LIVE!! You can subscribe and listen to all the previous episodes here.  http://bit.ly/CYNarchive1 and http://bit.ly/CYNarchive2
Music by Mandisa – Overcomer
http://www.mandisaofficial.com
Cover Art by Jenny Hamson