My Strength is My Story with Jen Rulon, life lessons beyond the triathlon, and the release of her new book, Rulon Rules: Strength Training & the Triathlete. You will be inspired, motivated and encouraged to be your best athlete.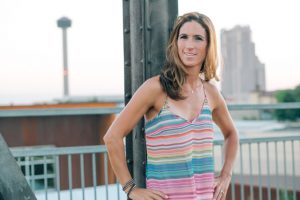 Jen Rulon: A wife, an author, a speaker, and a coach for triathletes. Coach Jen is a health and fitness expert receiving her master's degree in Kinesiology with an emphasis in Exercise Science along with her certification as a USA Triathlon Level 1 Coach. She shares here knowledge and expertise on her blog, in Runners World, Triathlete Magazine, Men's Online Journal, and WebMD.
Coach Jen is all about pushing the athlete beyond the physical aspects of training.
"Coaching triathletes to get to the finish line with a smile." ~ Coach Jen
Enjoy the multitude of topics discussed including triathlon, strength training, nutrition, the finish lines, and IronZen with Coach Jen! You'll discover many strategies and tools for becoming your best athlete.
Welcome
Ironman 11x
Triathlon – Swim/Bike/Run
The First Triathlon
1989 Triathlon Championship
First Female Finisher
Grandpa
Ironman KONA
Qualifications
Ironman FLORIDA
Women in Triathlons
TedX Talk
Getting Dad's attention
Find your why
Detroit Lions
Beyond the Kids
Walking
10,000 Steps a Day
Rulon Racing
Failure
Miscarriages
Loss of Dad
Therapy
The Bigger Picture
Excuses
Expectations
The Finish Line
Happiness
Training
Sabbatical
CrossFit
Strength Training
Life Lessons Beyond the Triathlon
Control
Next Ironman – August 2017
Nutrition
My Fitness Pal
Accountability
IronZen with Coach Jen
Negative Nancy vs Positive Paulie
Head games
Motivation
Butterflies
Top 20
The All World Athlete (GOLD)
TEDx Talk: http://bit.ly/TEDxTalkRulon
"Don't use so much energy on stuff you can't control." ~ Coach Jen
Quotes and statements within the interview:
"When I'm at Kona and see him [Grandpa] at the finish line, it's going to be pretty spectacular."
"I got 4th in my age group."
"We are trying to get more women in the sport of triathlon."
"My grandfather was a major inspiration for me."
"Write your life's story."
"I didn't need his [Dad's] validation anymore, because I got it within myself."
"Find your why behind doing this event."
"I'm the champion here. Hello? Look at me!"
"Mom, you need to get back in the gym."
"As we get older, we begin to lose that athletic ability."
"It's that why. It's that Kona."
"The only reason why I'll fail because I'll stop trying."
"In my mind, I felt like I failed because I couldn't have a child. I felt like I failed because I lost my dad.

"
"I'm raw and real!"
"You have to own your own stuff."
"I get more satisfaction when I see my athletes cross the finish line then they could imagine."
"You are finding yourself in your own triathlon journey."
"You guys control what you can control."
"What works for me may not work for the next person."
"You can start tracking how many calories you are taking in and how many calories you're pushing out."
"There are 3 things that are needed to get to a certain level as an athlete; physical, mental, and spiritual side of things."
"Humans can play so much head games in every day life."
What has your story gifted you?
Success
A closer relationship with God.
"There's a lot of talking to the Big Man upstairs when I'm out there on the race course and on the training." ~ Coach Jen
Resources mentioned in the episode:
"One step at a time leads to miles of greatness!"
Ready to see if coaching and a mentorship is for you? It's time you TAKE A.I.M. ~ Action Ignites Motivation. This is FREE for you. Stop trying to do it by yourself. Invest in YOU! You are worth the time!!!
ANNOUNCEMENT: Ready to shine your light and tell your story. Please click on MY STRENGTH IS MY STORY. Here you can submit yourself to appear on the podcast or make recommendations as who you would like to hear. This is going to be a beautiful series!
Music by Mandisa – Overcomer
http://www.mandisaofficial.com
Cover Art by Jenny Hamson