My Strength is My Story with Kim Cash Tate, Cling – Choosing a Lifestyle of Intimacy with God studies the importance of having an intimate relationship with God. This Bible study breaks down what it means to have a lifestyle in Christ.
Be inspired and encouraged by making God a conscious part of your day.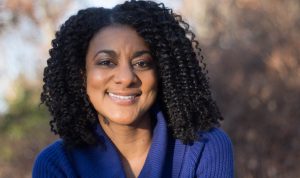 Kim Cash Tate: A wife of 24 years, a mother of two children. Kim received her law degree from George Washington University. Upon leaving her law career, she focused on being a women's ministry speaker. Little did she know that God was opening a door for her to be an author. She has published 9 books to date. Her latest is Cling, Choosing a Lifestyle of Intimacy with God.
"
Be steadfast, immovable, always abounding in the work of the Lord.

"
~ 1 Corinthians 15:58

Enjoy the multitude of topics discussed including writing a book, talking to God, and creating a lifestyle of intimacy! You'll discover many blessed nuggets and joy will fill your heart.
Writing interest
Practicing attorney
First book published
Personal Spiritual Journey
Fiction
Bible Study and DVD
Cling, the title
Inductive study
Deuteronomy 10:20 and 13:4
Meditation and Prayer
Relationship
What does cling look like?
Knowledge of His word
Talking to God
Memorize scripture
Challenge and hardships
In the beginning…
Chosen before the foundation
Intimacy with God
Recreated through Christ
Abide
Definition of intimacy
100 things to do
Overwhelm
Choice
The Promise Land
Little things
Conscious of God
Lead and guide
Living Words
God winks
Calendar
Productivity
Blessed as believers
One of the most challenging things with intimacy
Trials and tribulations
Prayer life
Go-to person
He is my friend
Comparison
Wedge of Disobedience
Big sins
Envy
Discontentment
Vertical and Horizontal relationships
Dreams, gifts, and calling
Seasons of Life
"
Clinging to God replenishes us and restores our soul.

" ~ Kim Cash Tate

Quotes and statements within the interview:

"I had this stirring in my heart."

"My agent told me, 'You should think about writing fiction.'"
"It was never a dream."
"This story just came into my head about a woman."
"Lord, are you serious?"
"Keep His commandments, follow Him, serve Him, and cling to Him."
"It was so different than those other verbs."
"Cling had become apart of me."
"How do I write a whole book about cling?"
"I love the journey of writing with the Lord."
"This is an invitation from God to be glued to Him.

"
"I just love opening up the Bible and seeing what God has to say through His word."
"I'm just always talking to Him."
"He'll show you how to cling to Him."
"We were actually created to cling to God."
"It really blows your mind!"
"That's why He sent Jesus for relationship."
"I love that the word of God never gets old."
"Every day we have a choice of whether we're going to pursue that close relationship with the Lord."
"He becomes a conscious part of the day."
"No matter where you are, it should always start with talking to God."
"He will meet us as we are reading His word."
"He will order our lives so it's not so crazy all the time."
"He will bless you as you cling to Him. That's just the nature of God."
"God wants us to delight in Him."
"It's a trial for a reason."
"That's when that closeness is forged."
"God is literally my go-to."
"A wedge is anything that causes us to stray from God."
"Our esteem is tied to likes, followers; all of that."
"It always starts with the vertical, us and God. Then, it goes to the horizontal."
"We're clinging to that thing, but God may not be in it."
"God is going to reveal Himself to me."
"You can't not talk about it!"
How to build intimacy?
Talk to God.

Ask Him the questions on your heart.

Recognize where God is moving in your life.
"We're not trying to get to God. He actually helps us get to Him."
What is the next step to a deeper relationship with God?
Spend time in the Bible.

Don't pick up a devotional. Reach for the Bible.
"It always starts with the vertical, us and God. Then, it goes to the horizontal."
What was God telling you personally when writing this book?
In the beginning…
"Hey Kim, you need to go back to the foundation." [spoken by God in Kim's heart]
What has your story gifted you?
"I love the word strength."
"I'm aware of my weakness; aware of how God's power is perfected in my weaknesses and how He strengthens me in that."
Resources mentioned in the episode:
"One step at a time leads to miles of greatness!"
Ready to see if coaching and a mentorship is for you? It's time you TAKE A.I.M. ~ Action Ignites Motivation. This is FREE for you. Stop trying to do it by yourself. Invest in YOU! You are worth the time!!!
ANNOUNCEMENT: Ready to shine your light and tell your story. Please click on MY STRENGTH IS MY STORY. Here you can submit yourself to appear on the podcast or make recommendations as who you would like to hear. This is going to be a beautiful series!
Music by Mandisa – Overcomer
http://www.mandisaofficial.com
Cover Art by Jenny Hamson