Joan Turley is an influential, empowering woman revealing her workplace experiences in her new book, Sacred Work in Secular Places. Through her journey, she shares how she overcame work-related depression to lead and love an amazing team!
Be ready to discover how to lead with love, enrich lives of others, inspire creativity, and foster a loyalty that can grow any company's bottom line.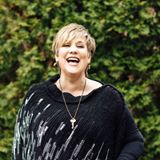 Joan Turley: A wife of 38 years, mother of two, and grandmother to 1 little blessing! Joan is a John Maxwell Certified Coach, Trainer, and Speaker. An encourager with a capital E. She is an influential communicator and a compelling speaker for creating and sustaining positive change in the workplace.
"He sent His word and He healed them." ~ Psalm 107:20
Enjoy the multitude of topics discussed including depression, comparison, joy and love! You'll discover many gems and understand how God can use you in the workplace, including in the home. Sit back and feel the joy of how God changes life one day at a time!
Married and Family Life
Changes in life
Full time ministry
Disappointment
Dark 30 to Dark 30
Deep Depression
Buried dreams
What does God say about work?
In the beginning
Workplace depression
What's my why?
What's my purpose?
Marathon of life
Job satisfaction
More than a paycheck
Workplace platform
Partnering with God
Validation
Not enoughs
I'm not smart enough.
Tragedy in School
Not enough polish
Womanhood
Not enough leadership
Non-profit
People and purpose
Love
Truth
CEO of the Family
The importance of today
Whispers
Housewarming
Joy
Oh Snap!!
A & B
Sandpaper Friends
Godly women in leadership
Restoration plan in write ups
Correction
Love
Agape
Comparison
Coping Techniques
BOOK: Sacred Work in Secular Places
"Everyone else was getting to live the dreams that I had and I was never gonna get to live them." ~ Joan Turley
Quotes and statements within the interview:
"I never wanted to be a worker bee."
"Most men lead quiet lives of desperation, and they go to the grave with a song still in them." ~ Henry David Thoreau
"God is the author of work."
"Work happened before the curse, before the fall."
"I didn't walk into joy right away."
"Each job was preparing me for that sweet spot."
"80% of the workforce hate their job."
"Work was not just suppose to be about an income, but about an impact!

"
"There's no dichotomy between sacred and secular."
"They are my image-bearer."
"Love trumps education."
"A heart to love, a heart to serve will trump everything."
"It was really an attack on my womanhood."
"I got polish!"
"God looks at the heart, man looks at the outside."
"Put your people and purpose before the profits."
"One day at a time."
"Love well. Live well. Forgive often."
"It is God's job to judge. It's the Holy Spirit's job to convict. It's my job to love." ~ Rev. Billy Graham
"Just walk with them."
"I rejoice in being a woman."
"We are a leader for a purpose, not for a position."
"You should not rebuke them unless in the same breath you can restore them."
"I can choose for the highest good."
"You cannot answer questions people aren't asking."
What has your story gifted you?
"I was made for this!"
Resources mentioned in the episode:
"One step at a time leads to miles of greatness!"
Ready to see if coaching and a mentorship is for you? It's time you TAKE A.I.M. ~ Action Ignites Motivation. This is FREE for you. Stop trying to do it by yourself. Invest in YOU! You are worth the time!!!
ANNOUNCEMENT: Ready to shine your light and tell your story. Please click on MY STRENGTH IS MY STORY. Here you can submit yourself to appear on the podcast or make recommendations as who you would like to hear. This is going to be a beautiful series!
Music by Mandisa – Overcomer
http://www.mandisaofficial.com
Cover Art by Jenny Hamson