My Strength is My Story with Julienne Burleson, Surviving Camp Inca: A Life Changing Prison Experience. Julienne is a courageous woman revealing her vivid memories through her journey, showing the resilience of the human spirit; being transformed in her darkest moment to a bright beacon of light.
Be ready to re-live the miracles that Julienne lived over a period of 5 years. The hope and love she has now after her devastating journey will mesmerize your heart, and confuse your mind, all the while expressing gratitude for the blessings of freedom.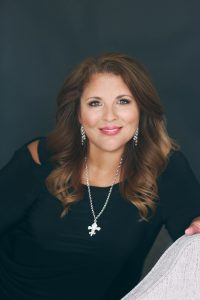 Julienne Burleson: A wife of 14 years married to a wonderful man. Julienne is a profound, captivating and inspirational speaker, number one best-selling author on Amazon, and healing artist in the modality of reflexology by trade. She currently resides in Tennessee and enjoys living a life of freedom.
Julienne's powerful story serves as a parable about finding light in the darkest places. Soon you will realize that you, too, an break the chains of fear, abuse, conformity, limitation, bad habits — or whatever your own personal "Camp Inca" may be for you.
"

You don't have enough faith,

" Jesus told them. "

I tell you the truth, if you had faith even as small as a mustard seed, you could say to this mountain, 'Move from here to there,' and it would move. Nothing would be impossible.

" ~ Matthew 17:20
Enjoy the multitude of topics discussed including Hollywood, relationships, drugs, fear, hope, and love! You'll discover many gems and see the blessings of God's provision over Julienne's life. And who knows, rats might even show up! Sit back and feel the joy of how a life changing prison experience brought about significance through God.
Where I am now.
Growing up as a beach girl in California.
Studio City and West Hollywood
Duran Duran, Gwen Stefani, U2
The House of Blues
The Comedy Store
Separation of parents
Daddy's girl
American Band Stand
Calvary Chapel and Baptized
Became a Christian
Dad & Bars
Commercial catering
Neighbor's best friend
Miami Trip
Flight to Ecuador
A New Language
Rats!
Artwork
Touring Quito
Airport Checkin
Customs, Agents and Dogs
Drugs
SHOCK
A prisoner
The Interpol Compound
The Balcony
The Cell, men prisoners, and the torture chair
The Motorcycle
The US Embassy
Transferred to CDP
Pneumonia
Peace Corp Missionaries
Pancake mattresses
Camp Inca
What is your "Camp Inca"?
Why am I here?
Support from Family
Transferred to prisons
The escape
Moms and their children
Lucia
Jail Four
Sentence taking almost 3 years
Tequila
Change in the government
Where was God in all of this?
My Missionary Mom, Joan
Prison transfer
Dad & the Body Guard
60 Minutes and Mike Wallace
Parents looking for peace
Regret as a journalist
The drug lord and turkey dinner
Gratitude
Forgiveness
Love
Peace
Mother's Day Weekend
Back to Camp Inca
Bible Study in prison
Reflexology
Bakery
Two for One Law
Loophole
Kill the Rats Campaign
Freedom
"

Trust in the LORD with all your heart; 

do not depend on your own understanding. 

Seek his will in all you do, 

and he will show you which path to take." ~ Proverbs 3:5-6
What nuggets did God give you?
Perspective

Trust

Discernment

Negative to positive
Quotes and statements within the interview:
"Going to see bands was my thing."
"My Dad called me a world traveler, because my favorite book was an atlas."
"Watching La La Land brought me back."
"Life was good."
"I always thought I would be in the entertainment business."
"I was looking for an extended family."
"I needed a void filled."
"You won't feel like a third wheel."
"They had the answers for everything.

"
"I automatically thought we were going to the beach."
"Julienne, you're our friend. We would never put you in a bad situation."
"I can handle this."
"I heard a little voice that said, 'Don't do this. Don't go.'"
"There is cocaine all over the floor in 24 pieces of art."
"When I woke up, there was an English/Spanish dictionary sitting next to me."
"It was like an indoor outdoor maze."
"You can kill me now!"
"I sat there for 3 days."
"I was transferred to CDP and held illegally for 30 days."
"Women would be sleeping kind of over each other in the cage."
"You have to charge her or you have to let her go!"
"It took me 2 years to get to court."
"Oh my God! I'm not going to eat a horse!"
"I was mentally checked out."
"Every time I get transferred, I get transferred back to Camp Inca."
"I got the sentence — 10 years."
"I downed it."
"It wasn't that I still didn't believe in God, but I wasn't even thinking it was God's problem."
"I don't have time for it."
"She never gave up on me."
"Julienne, are you reading your Bible?"
"I wish they would have showed more in those prisons than we showed."
"I found peace from a drug lord."
"What I can do is temporary. What God can do is eternal."
"We started to grow as a body."
"The miracle in all of this is I flew into the country on July 5, 1995, and flew out of the country July 5, 2000."
"I had to leave the country on a good note."
"I've come so far in life."
"The ultimate freedom is in Jesus."
"You don't have to wait for permission to reinvent yourself."
What would you tell those stuck in "Camp Inca"?
Seek in the Lord.
Read the Bible.
Pray.
Seek counsel.
Set goals.
Reinvent yourself.
You MUST respond.
What has your story gifted you?
Feeling grateful.
Helping others see the blessings in their life.
"Encouraging others to share their story!"
Resources mentioned in the episode:
"One step at a time leads to miles of greatness!"
Ready to see if coaching and a mentorship is for you? It's time you TAKE A.I.M. ~ Action Ignites Motivation. This is FREE for you. Stop trying to do it by yourself. Invest in YOU! You are worth the time!!!
ANNOUNCEMENT: Ready to shine your light and tell your story. Please click on MY STRENGTH IS MY STORY. Here you can submit yourself to appear on the podcast or make recommendations as who you would like to hear. This is going to be a beautiful series!
Music by Mandisa – Overcomer
http://www.mandisaofficial.com
Cover Art by Jenny Hamson