My Strength is My Story with Julie Hunt, I'm About to Get Up! Her story of persevering through loss and grief; overcoming the ultimate in despair.
Julie Hunt is a speaker, author, and creator of Smart Kids 101. In her new book, I'm About to Get Up!: Persevering Through Loss and Grief, she shares her account of overcoming the ultimate in despair.
"God is good all the time, and all the time God is good."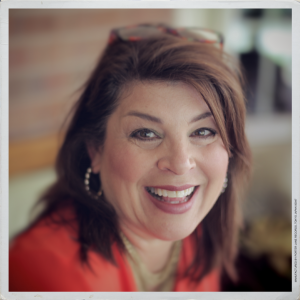 Julie Hunt: A devoted wife to Kye of 11 years, a mother to two beautiful children, and together they are blest as a blended family with 7 adult children and 3 grandchildren. When she decided to become a stay-at-home mother, she created Smart Kids 101 (a DVD-based life skills curriculum for kids). Julie has educated over 25,000 children.
"

Do not gloat over me, my enemy. Though I have fallen, I will rise. Though I sit in darkness, the Lord will be my light.

" ~ Micah 7:8
Enjoy the multitude of topics discussed including loss and grief. You'll discover many gems of wisdom throughout this coffee chat. Tears were shared. Hope ignited. Sit back and let yourself hear how grace is sufficient!
Wife, step-mother, grandmother too.
The Rainy Day
Coffee
Love of her life
The dreadful call
Prayer
Confidence
Swirl of thoughts
Not knowing
Insecurity
Realist
The Wedding Band
Life and Death
Saying goodbye
No regrets
Faith
Grace
Valley of Death
Nashville Country Scene
Television Production
Funeral
Pit of Grief
Caring for others
Loss
Grandfather's death
Boyfriend's death
Brutal murder of best friend
Unstable ground
The Ultimate Despair
Hurt
Widow
A Newly-Wed
The Mask
Emotional stability
Grieving the Loss
Orphan thoughts
Disappointment
Love
Christian posture
Scars
Father heart message
Writing her life's message
Walking in the prayers
BOOK: I'm About to Get Up! Persevering through Loss and Grief
"

For the death is the destiny of every man; the living should take this to heart.

" ~ Ecclesiastes 7:2b 
Quotes and statements within the interview:
"It's the little things you can build a marriage on."
"We were an All-American family."
"I knew it probably wasn't good, but I was trusting God."
"This will be ok because God is good."
"That was such a gift that they forgot."
"I went into mother bear protection mode."
"My confidence was in the Lord."
"Get your sword out and fight.

"
"I felt a squeeze and saw a squeeze."
"It forever changed me."
"You just don't know how to walk these things out. You just take the Lord Jesus' hand and do the best you can."
"I'm always going to swing for Christ."
"I have a big God and I dream big!"
"I knew that God was bigger and I couldn't limit Him."
"It just doesn't go away."
"Grief has its own timetable."
"Putting them at the cross of Jesus is what heals all wounds."
"It's not until I got still and got real that I started addressing those gaping wounds of my own heart."
"I was an emotional mess!"
"But what the deficit was that I didn't understand was fully His love for me."
"Grace is sufficient."
"We were created to have a relationship with God."
What would you tell someone struggling with loss and grief?
Get real with your pain.
Have that conversation with God.
Pour out your heart, real and honest.
What has your story gifted you?
"My testimony is going to unlock prison doors and set people free."
Resources mentioned in the episode:
"One step at a time leads to miles of greatness!"
Ready to see if coaching and a mentorship is for you? It's time you TAKE A.I.M. ~ Action Ignites Motivation. This is FREE for you. Stop trying to do it by yourself. Invest in YOU! You are worth the time!!!
ANNOUNCEMENT: Ready to shine your light and tell your story. Please click on MY STRENGTH IS MY STORY. Here you can submit yourself to appear on the podcast or make recommendations as who you would like to hear. This is going to be a beautiful series!
Music by Mandisa – Overcomer
http://www.mandisaofficial.com
Cover Art by Jenny Hamson