Keridon McMahon, a fitness industry expert, has a heartbeat for helping women rise above their excuses and thrive in their newly created living patterns. "Feel your best to be your best! Better your patterns to better your life!"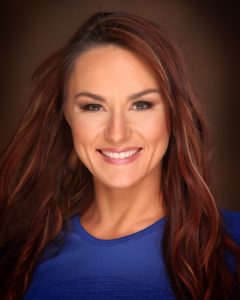 Keridon McMahon: An extraordinary fitness expert, a devoted wife and mother of 3; Keridon keeps active by running a successful fitness business, and a certified master trainer, and the 1996 World Champion in her style of martial arts. She is also the creator of her new DVD series, "Keridon's Fat Krusher".
"Living well doesn't happen by accident. It happens by design." ~ Keridon McMahon
Enjoy the multitude of topics discussed. Many gems of wisdom throughout this coffee chat. Sit back and let your heart hear yourself through Keridon's story!
Growing Up
Crime & Safety
Martial Arts
Self-Care
Denise Austin VHS
The "Old Soul"
Sharing my Passion
Building a Fitness Career
Marriage
Divorce
Motherhood
Workaholic
Single Mom and Balance
Home Fitness
Frustration
Scheduling home & business
Saying "Yes!"
Dark times
Failure
Defeat
Faith
Gratitude
Death of Best Friend
Birth of a Child
Denial
Numbness
Clinical Depression
Grief
Loss of Father
Leadership
Choices
Joy
Bitterness
Love
Worth
Self-Love
Impact
Escape Dark Places
Healthy Patterns
Rants & Social Media
"Greater love has no one than this, that someone lay down his life for his friends."
~ John 15:13
Quotes and statements within the interview:
"Truly being hands-on with people is how you're going to learn the best."
"I'm meant for more than this!"
"I also used work as my therapy."
"I was this go-getter that would never accept defeat. And that was a big life defeat. And that was a big negative dark cloud."
"Your lifestyle becomes your patterns.

"
"I relied on my faith."
"God never turned away from me even though I turned away from Him."
"It's interesting how such dark times in your life can bring you to some of the greatest blessings too."
"Karen to me was always that older sister I always needed."
"I could not celebrate my youngest's life."
"I get it now!"
"Selfishly, I needed them to do well so I felt like I was doing well."
"…not a moment you can take for granted."
"Wonder Woman was taken out."
"If you don't love, you can't lose them."
"I made a choice to love harder."
"Become your best self."
What would you say to people who are in a dark place?
You are worth it!
Map it out.
Know it's not easy.
How to Create a Healthy Pattern
Drink more water (16 oz. of cold water in the morning when you first wake up.)
Be active every day.
Find 20 minutes. "Think outside the box when it comes to fitness!" ~ Keridon McMahon
Want to Start a Business?
It's not easy and not all glamorous.
Sacrifices will need to be made.
Expensive.
Leave people feeling good.
Guard your reputation.
Don't make it all about you.
Treat people well.
What has your story gifted you?
STRENGTH… Strength to go on. Strength to be a good mom, a good wife, a good friend, a good trainer, a good leader.
Resources mentioned in the episode:
"One step at a time leads to miles of greatness!"
Ready to see if coaching and a mentorship is for you? It's time you TAKE A.I.M. ~ Action Ignites Motivation. This is FREE for you. Stop trying to do it by yourself. Invest in YOU! You are worth the time!!!
ANNOUNCEMENT: Ready to shine your light and tell your story. Please click on MY STRENGTH IS MY STORY. Here you can submit yourself to appear on the podcast or make recommendations as who you would like to hear. This is going to be a beautiful series!
Music by Mandisa – Overcomer
http://www.mandisaofficial.com
Cover Art by Jenny Hamson