Julie Carr is an athlete for life in heart and soul! She believes you need to stop surviving and start thriving. From crisis to crossroads to living on purpose, she is always seeking to live her authentic self.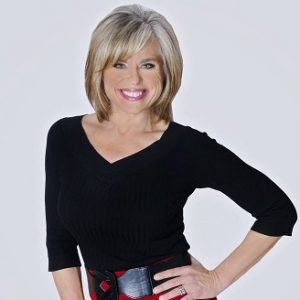 Julie Carr: An exemplary woman, a devoted wife and mother of 3; Julie keeps active by living on purpose as a motivational speaker, and a certified life and career coach. She is also the author of her new book, "Stop Surviving and Start Thriving". In her spare time, Julie is an accomplished triathlon athlete competing around the country.
"I am always seeking to live my authentic self.

" ~ 

Julie Carr
Enjoy the multitude of topics discussed. Many gems of wisdom throughout this coffee chat. Sit back and let your heart hear yourself through Julie's story!
Crisis and Crossroads
Who am I?
Why am I here?
Learning and Growing
Stretching
Created to THRIVE
Trapped in Survival Mode
Where do you start?
Scripts written by others
You know what you want
Belief
College and Graduate School
Gifts and Talents
The Right Time
Safety and Security
Perceived Danger
How often do we get locked up?
Motherhood
Empowerment
Connect head to heart
What I want?
Who I am?
Layers of own beliefs
Fear
Failure
Risks
What's the costs of NOT stepping out?
Self-discovery
Drug and Alcohol Addiction
Faithfulness
Living your life's purpose
Respect
The Terrible Monster
Reactionary Mode
Disobedience
Success Journal
Consistency
3 Step Guide to Discover Your God-gifted Purpose
Quotes and statements within the interview:
"It is always a journey."
"Where's the wealthiest place on earth? The grave yard." ~ Miles Monroe
"Consult the Manufacturer of your soul."
"I was choosing the path of least resistance."
"All comfort is not created equal.

"
"Regret for the things I have done is consolable. Regret for the things I wish I would have done and didn't do is inconsolable." ~ Unknown
"The teacher can never teach to an individual who's not ready to learn." ~ Miles Monroe
"It's the every day battles we give up."
"Take the small risks!"
"I will die completely empty."
"My mess had turned into someone's miracle."
"We give fear more credibility than God."
What would you say to people who are struggling now?
Get alone with God.
Listen to your heart.
Ask God, "God what do you want me to do with my life?"
What has your story gifted you?
I know that I know that I know that it is possible to THRIVE and LIVE your life's purpose.
Resources mentioned in the episode:
"One step at a time leads to miles of greatness!"
Ready to see if coaching and a mentorship is for you? It's time you TAKE A.I.M. ~ Action Ignites Motivation. This is FREE for you. Stop trying to do it by yourself. Invest in YOU! You are worth the time!!!
ANNOUNCEMENT: Ready to shine your light and tell your story. Please click on MY STRENGTH IS MY STORY. Here you can submit yourself to appear on the podcast or make recommendations as who you would like to hear. This is going to be a beautiful series!
Music by Mandisa – Overcomer
http://www.mandisaofficial.com
Cover Art by Jenny Hamson