What if food could be more for you than simply fuel for your body? Melissa d'Arabian shares her journey with food and how it's an invitation from God; tasting grace!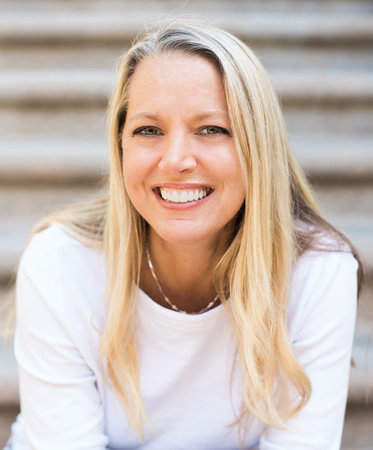 Melissa d'Arabian: A wife of 16 years and mother to their four beautiful girls, which includes one set of twins.
She is a speaker, writer, television host, and celebrity chef. After winning season five of "The Next Food Network Star" in August 2009, Melissa premiered her inaugural cooking show, "Ten Dollar Dinners".
She went on to be a New York Times Best-Selling Author with her first cookbook "Ten Dollar Dinners: 140 Recipes and Tips to Elevate Simple, Fresh Meals Any Night of the Week", which debuted in August 2012.
Melissa then followed up with her second cookbook in December of 2014 — "Supermarket Healthy: Recipes and Know-How for Eating Well without Spending A Lot".
And now she is celebrating her third book, "Tasting Grace: Discovering the Power of Food to Connect Us to God, One Another, and Ourselves".
"Tasting Grace is the book that nobody asked me to write. Nobody except me and God." ~ Melissa d'Arabian
Enjoy the multitude of topics discussed including motherhood, poverty, redemption, suicide, body image, cooking, plus so much more.
Connection
Introvert
Motherhood
Faith journey
Spiritual winter
Gift of joy
The next big thing
Identity
The performer
Story
Invitations with food
Poverty & Food
Mom's death
Why me? Why this book?
Redemption
Sorrow
The Delta salad
Not enough
Generosity
Body image
Prayer
Worship
The bridge
Show up
What's for dinner?
Multi-tasking
Grace
Mindy
Cancer
Legacy
"We are, through food, given a glimpse into so much of the mystery and wonder and vastness and expansiveness of God." ~ Melissa d'Arabian
#MyStrengthIsMyStory #CreateYourNow #MelissadArabian
Quotes and statements within the interview:
"What brings me joy more than anything else is connection."
"Being a mom of four girls has just been such an honor. I can't believe God let me do that."
"My faith journey has changed. And it's had events or turning points which is much like my food journey."
"The spiritual winter after my mom's death really came from my inability to reconcile her suicide."
"But in her death, I really learned how to have joy without being happy."
"And that gift, understanding that joy really is an inside job. And for me it's a job about me and God."
"I love story, because it's universal."
"It was something I wanted, I needed to learn and reconcile about food culture verses what God wanted be to feel and think about food."
"A lot of the stuff that I felt yucky about with food, I realize I was creating and society was creating and God wasn't. And God was inviting me into such goodness."
"The good news is the joy is big enough to house the sorrow."
"Every meal has the ability to invite us into a bunch of these invitations and has the ability to draw us closer to God."
"When you don't have enough of something, that shapes how you look at food."
"God's invitations aren't separated out in outline form."
"For those slippery slope zones, I literally just pray before I workout, because I need to keep my motives pure."
"I look back at my life, and I cannot find one instance in earnest where God really dropped me."
"So much of life is just showing up."
"It doesn't have to be perfect; it really doesn't. We just have to show up." 
What has your story gifted you?
"My story with loss, yucky, good, bad, good decisions, bad decisions, things working out, some things not working out — all of that has been my story. All all of that has just sucked me right on up into being close to God."
"So for that if it took that story to get me closer to God, then I love my story."
Resources mentioned in the episode:
"One step at a time leads to miles of greatness!"
Ready to see if coaching and a mentorship is for you? It's time you TAKE A.I.M. ~ Action Ignites Motivation. This is FREE for you. Stop trying to do it by yourself. Invest in YOU! You are worth the time!!!
ANNOUNCEMENT: Ready to shine your light and tell your story. Please click on MY STRENGTH IS MY STORY. Here you can submit yourself to appear on the podcast or make recommendations as who you would like to hear. This is going to be a beautiful series!
Subscribe to Create Your Now TV on YouTube.
Listen to Create Your Now on Spotify and Pandora.
Listen to Create Your Now on iHeart Radio. Click here.
The Create Your Now Archives are LIVE!! You can subscribe and listen to all the previous episodes here.  http://bit.ly/CYNarchive1 and http://bit.ly/CYNarchive2 and http://bit.ly/CYNarchive3 and http://bit.ly/CYNarchive4 and http://bit.ly/CYNarchive5
Contact me at YourBestSelfie@CreateYourNow.com
Instagram
@CreateYourNow
@Kristianne Wargo
Twitter
@KristianneWargo
@CreateYourNow
Facebook
www.facebook.com/TheKISSCoach
www.facebook.com/CreateYourNow
Cover Art by Jenny Hamson
Music by Mandisa – Overcomer
http://www.mandisaofficial.com
Song ID: 68209
Song Title: Overcomer
Writer(s): Ben Glover, Chris Stevens, David Garcia
Copyright © 2013 Meaux Mercy (BMI) Moody Producer Music (BMI)
9t One Songs (ASCAP) Ariose Music (ASCAP) Universal Music –
Brentwood Benson Publ. (ASCAP) D Soul Music (ASCAP) (adm. at CapitolCMGPublishing.com) All rights reserved. Used by permission.