In a world of divisions and margins, those who act, look, and grow a little differently are all too often shoved aside. Heather Avis reminds us to scoot over and make some room for those we are prone to ignore and challenges us to listen and learn.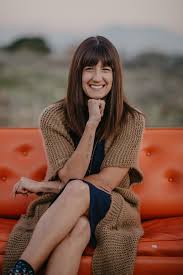 Heather Avis: A wife of 17 years to Josh and mom to their three children: Macyn, Truly, and August.
She is a popular speaker, podcast of The Lucky Few, and Instagrammer.
Heather's family story has been featured by numerous outlets, including Time, Today, PopSugar, and most recently in a Disney World Commercial.
Heather is a two-time author. Her first book is The Lucky Few. Her brand new book is Scoot Over and Make Some Room.
"We need to embrace who are kids fully are, even if they're totally different from everybody else." ~ Heather Avis
OFFICIAL BOOK TRAILER: Scoot Over and Make Some Room
Enjoy the multitude of topics discussed including infertility, adoption, the dance recital, and diversity, plus so much more.
Feet under the table
Adoption
Infertility
Womanhood
Rest
Self-care
Fitting In
Down Syndrome
What's your name?
Limitations
Jesus, the Mold Breaker
The Orange Couch
Success
Sriracha and Marmalade Mamas
Know my babies
Come as they are
The Dance Recital
Hip Hop
Uptown Funk by Bruno Mars
Diversity and Race
Intentionality
Racial Reconciliation
Questions & Curiosity
Who's missing?
Step in the tension
Typical Day
Advocate for children
Self-worth
Posture of the Heart
The Church
"We weren't going to raise our daughter who's black to be like a white girl." ~ Heather Avis
#MyStrengthIsMyStory #CreateYourNow #HeatherAvis
Quotes and statements within the interview:
"We tried to have kids naturally and couldn't. But still wanted to be parents. And so adoption made the most sense for us."
"The end goal was to be parents. It wasn't to have a child who looked liked us or who shared our genes. That doesn't feel super important to my husband and me."
"There's brokenness in infertility."
"You can't know what you don't know."
"I really didn't start thinking about my need for rest until my thirties, until I was already three kids in."
"I started finding for myself that the idea of self-care felt like another to-do on my list, and it felt burdensome."
"My oldest is eleven, and when she shows up in a space, she shows up as she is."
"And now I just watch it unfold and embrace it, and see what beauty there is there. And I learn so much from her constantly."
"We're just so concerned about ourselves that it stops us from showing up fully as who we are and understanding who it is God made us to be."
"Jesus showed up to the scene breaking all of the molds."
"And they should be welcomed in every space that we are in, and not just welcomed, but invited into every space we are in."
"My research was the closest, most affordable class."
"I want to dance with Macyn!"
"It just takes everybody adjusting a little bit for her to be successful; and it's not too much to ask a hundred people to adjust a little bit for one person."
"And to see the fullness of humanity and to see the fullness of God in that humanity, that's come from my motherhood."
"But I want to be available to help Truly navigate life as a person of color."
"Truly has helped to push us into that space where we're learning and listening, and learning and listening and trying to show up and be aware of our blindspots."
"Proximity and relationship are really important."
"It's a pretty normal life over in our neck of the woods."
"We will keep shouting their worth as long as people are listening. And even when they stop listening, we will keep shouting."
"Every human being is an image-bearer of God."
"I need my kids to be fully included in a church environment."
What has your story gifted you?
"Relationships with people that I never would have been in relationship with."
Resources mentioned in the episode:
"One step at a time leads to miles of greatness!"
Ready to see if coaching and a mentorship is for you? It's time you TAKE A.I.M. ~ Action Ignites Motivation. This is FREE for you. Stop trying to do it by yourself. Invest in YOU! You are worth the time!!!
ANNOUNCEMENT: Ready to shine your light and tell your story. Please click on MY STRENGTH IS MY STORY. Here you can submit yourself to appear on the podcast or make recommendations as who you would like to hear. This is going to be a beautiful series!
Subscribe to Create Your Now TV on YouTube.
Listen to Create Your Now on Spotify and Pandora.
Listen to Create Your Now on iHeart Radio. Click here.
The Create Your Now Archives are LIVE!! You can subscribe and listen to all the previous episodes here.  http://bit.ly/CYNarchive1 and http://bit.ly/CYNarchive2 and http://bit.ly/CYNarchive3 and http://bit.ly/CYNarchive4 and http://bit.ly/CYNarchive5
Contact me at YourBestSelfie@CreateYourNow.com
Instagram
@CreateYourNow
@Kristianne Wargo
Twitter
@KristianneWargo
@CreateYourNow
Facebook
www.facebook.com/TheKISSCoach
www.facebook.com/CreateYourNow
Cover Art by Jenny Hamson
Music by Mandisa – Overcomer
http://www.mandisaofficial.com
Song ID: 68209
Song Title: Overcomer
Writer(s): Ben Glover, Chris Stevens, David Garcia
Copyright © 2013 Meaux Mercy (BMI) Moody Producer Music (BMI)
9t One Songs (ASCAP) Ariose Music (ASCAP) Universal Music –
Brentwood Benson Publ. (ASCAP) D Soul Music (ASCAP) (adm. at CapitolCMGPublishing.com) All rights reserved. Used by permission.