My Strength is My Story with Ron Kitchens, Uniquely You
There is no shortage of gurus, processes, and quick-fix formulas. However, through life's trials and triumphs, Ron Kitchens shares leadership lessons to learn by being uniquely you!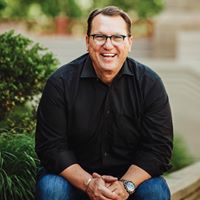 Ron Kitchens is a husband of 27 years, a father to their beautiful daughter, with the newest addition Finley River of Hoover's Mill, an adorable puppy.
Ron is the senior partner and CEO of Southwest Michigan First, an economic consulting firm which has grown compounded revenue at 20 percent annually during his fourteen years as CEO.
The organization was recognized by Best and Brightest Companies to Work For and Outside Magazine, the Wall Street Journal as the BEST place to work in America in 2018.
In addition, Ron leads Consultant Connect, is the publisher of 269 Magazine, a board member of IMPACT Athletic, the past chair of the Kalamazoo Institute of Arts, and a Trustee of Western Michigan University.
Ron founded the leadership conference Catalyst University and co-founded NEXT, an invitation only leadership symposium of global economic development leaders.
He is a speaker, podcaster, and has authored three books with his newest release Uniquely You: Transform Your Organization by Becoming the Leader Only You Can Be.
"Be your authentic self. The world pays millions for authenticity, and pays pennies for bad copies." ~ Ron Kitchens
Enjoy the multitude of topics discussed including leadership, mandarin oranges, Rachel Hollis, Nehemiah, and the Green Witch plus so much more.
Team leadership
Rolex watch
John Maxwell
Jon Acuff
Instagram
Media
Growing Up
Poverty
The Banana Box
Can of Mandarin Oranges
Developing Leaders
The color orange
What's important?
Destiny
Identity
Dyslexia
Superpower
Seed of Success
Rachel Hollis
Football
The Nehemiah Journey
That's not our plan!
Nehemiah 6:3
Communications
Millennials
The Cul-de-sac
Olivia Pope of Scandal
Raw manifestation of Your Calling
Validation
Wicked on Broadway
The Green Witch
I am enough!
Impact & Influence
"You can change your plan, but you need to not let other people change it for you!" ~ Ron Kitchens
#MyStrengthIsMyStory #CreateYourNow #RonKitchens
Quotes and statements within the interview:
"The vast majority of them are under thirty."
"Be you! The world has enough copies."
"People don't value knock-offs. They don't value fakes."
"And in the Ozark Mountains, in the 1970s, tropical fruit, whether it was can or fresh, was something rare and to be saved."
"This can of mandarin oranges became a symbol for me that somebody loved me; that somebody cared enough in the world."
"What it really has become is a symbol of my responsibility to take the role of those three men and give back to people, who I don't necessarily know, who I don't even necessarily know why they're in their situation, but I'm not called to know why. I'm just called to love them and called to support them on a journey."
"And I want you in your career to find something that will remind you in a tangible way of what's important to you."
"It's easy for the noise to drag us away from our destiny."
"Being dyslexic, I wasn't diagnosed until I couldn't graduate from college."
"But what I was embarrassed to tell people about, I now know is my superpower!"
"Everyone has a unique seed of success in them."
"And that's what I want for everybody is just to be happy and don't spend your life trying to be a bad fake of somebody else. Embrace who you are!"
"It took me eight years of working part-time and going to college."
"Cause I grew up knowing, the people who had what I wanted all had one thing in common. Their family had jobs."
"This ladder is to remind me no matter how flattering, you have to stay up on the ladder."
"I believe that the millennial generation has the ability to be the greatest generation that's ever been on the face of the earth."
"So the one thing, if you want to be a great leader today, is the the ability to unambiguously communicate to this incredible generation to mentor and lift them up."
"So as leaders, we've got to first determine: Am I stuck in a cul-de-sac or am I just slowed down on the side resting a little bit?"
"What do you want?"
"I don't really know why, except I've discovered that I'm the green witch."
"And I think for a lot of us out there, it doesn't matter if you came from poverty or prosperity, we all have that voice in our heads that says 'You're not enough!'"
What has your story gifted you?
"It's really easy for a lot of people to forget their own journey and lose their sense of empathy."
"And if there's a sense I would never want to lose, it's that. Because it helps me understand."
"My past has created this sense that 'I love everybody,' and I want them to have as many unbelievable opportunities that I've had."
Resources mentioned in the episode:
"One step at a time leads to miles of greatness!"
Ready to see if coaching and a mentorship is for you? It's time you TAKE A.I.M. ~ Action Ignites Motivation. This is FREE for you. Stop trying to do it by yourself. Invest in YOU! You are worth the time!!!
ANNOUNCEMENT: Ready to shine your light and tell your story. Please click on MY STRENGTH IS MY STORY. Here you can submit yourself to appear on the podcast or make recommendations as who you would like to hear. This is going to be a beautiful series!
Subscribe to Create Your Now TV on YouTube.
Listen to Create Your Now on Spotify.
Listen to Create Your Now on iHeart Radio. Click here.
The Create Your Now Archives are LIVE!! You can subscribe and listen to all the previous episodes here.  http://bit.ly/CYNarchive1 and http://bit.ly/CYNarchive2 and http://bit.ly/CYNarchive3 and http://bit.ly/CYNarchive4 and http://bit.ly/CYNarchive5
Contact me at YourBestSelfie@CreateYourNow.com
Instagram
@CreateYourNow
@Kristianne Wargo
Twitter
@KristianneWargo
@CreateYourNow
Facebook
www.facebook.com/TheKISSCoach
www.facebook.com/CreateYourNow
Cover Art by Jenny Hamson
Music by Mandisa – Overcomer
http://www.mandisaofficial.com
Song ID: 68209
Song Title: Overcomer
Writer(s): Ben Glover, Chris Stevens, David Garcia
Copyright © 2013 Meaux Mercy (BMI) Moody Producer Music (BMI)
9t One Songs (ASCAP) Ariose Music (ASCAP) Universal Music –
Brentwood Benson Publ. (ASCAP) D Soul Music (ASCAP) (adm. at CapitolCMGPublishing.com) All rights reserved. Used by permission.