My Strength is My Story with Matt Fitzgerald, Life is a Marathon
Life is a marathon. As an endurance athlete and coach, Matt Fitzgerald reveals how the marathon transforms the lives of everyone who attempts it, especially how it has helped his own family cope with serious adversity.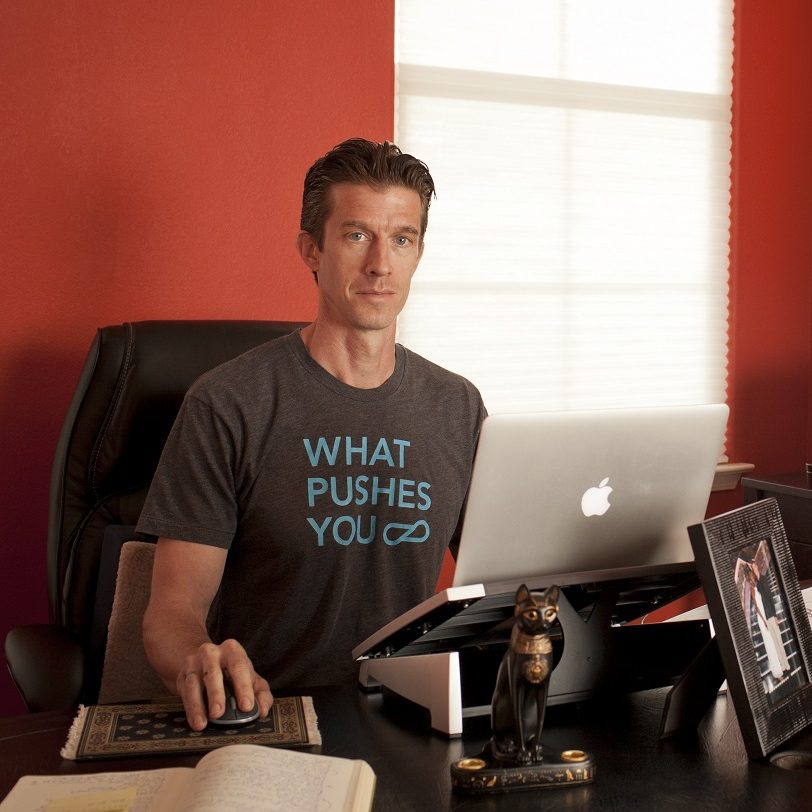 Matt Fitzgerald is a husband of 18 years to Nataki. But really Queenie, their puppy, rules the house, especially with her 5am wake-up licks.
Matt is an endurance sports writer and certified sports nutritionist. He is a coach and spokesperson for PEAR Sports and former senior editor at Triathlete and Competitor.
Matt has also contributed to Men's Health, Outside, Runner's World, Shape, and many other publications. He is also the author of more than 20 books, including his brand new book, Life is a Marathon: A Memoir of Love and Endurance.
"I thought I solved the problem by quitting." ~ Matt Fitzgerald
Enjoy the multitude of topics discussed including mental illness, marriage, running, endurance, and love.
Intensity
Charmed Childhood
Marriage
Running
Coward
Pain of running
Mental toughness
Love of my life
Triathlon on St. Maartan
Endurance training
Personal growth
Selfishness
Mental Illness
Empathy
Love
George Sheehan
Don Delillo
Inner journey
Challenges
Values
Clear vision
Cross country journey
Celebration
Passion
Choose your thoughts
Reflective responses
"You've changed!"
Fall in love with running
"What a gift is can be to tell the whole story, to show it all." ~ Matt Fitzgerald
#MyStrengthIsMyStory #CreateYourNow #LifeIsAMarathon
Quotes and statements within the interview:
"I didn't write this book ten years ago 'cause I didn't have my happy ending yet."
"I do it (running) for the adventure; for the inner journey it takes me on."
"I view it (marriage) as marriage."
"Every kid is a sucker for something they have a gift for."
"I failed to show up to the start line of a very important track race."
"A coward on the race course, is a coward off it as well."
"But something about that particular humiliation brought me all the way back to that high school race that I failed to show up for."
"It was almost like my sport was my mistress, in a sense in the relationship."
"It wasn't an easy balance."
"Things really had to go haywire before I realized she was sick."
"I was doing what I wanted to do."
"It became my best opportunity to be the man I wanted to be."
"The good comes at a cost."
"No matter what sort of life you live, you need to be strong, and it takes courage to live a good life."
"The life we have together now feels like something we earned and we deserve, and something to be relished."
"What is a good life?"
"I was going on nothing but hope."
"So many runners have stories that aren't that different where they were able to use this way of challenging themselves to bootstrap their way to gaining the strength they needed to overcome whatever it was that they were dealing with."
"How much control you really have about what goes on inside your head."
"One of the things I love about Nataki is that, like I said, she's real."
What has your story gifted you?
"You have to be a strong person to live a good life."
"A story of finding the strength to live the life I want to live and to be the person I want to be."
Resources mentioned in the episode:
"One step at a time leads to miles of greatness!"
Ready to see if coaching and a mentorship is for you? It's time you TAKE A.I.M. ~ Action Ignites Motivation. This is FREE for you. Stop trying to do it by yourself. Invest in YOU! You are worth the time!!!
ANNOUNCEMENT: Ready to shine your light and tell your story. Please click on MY STRENGTH IS MY STORY. Here you can submit yourself to appear on the podcast or make recommendations as who you would like to hear. This is going to be a beautiful series!
Subscribe to Create Your Now TV on YouTube.
Listen to Create Your Now on Spotify.
Listen to Create Your Now on iHeart Radio. Click here.
The Create Your Now Archives are LIVE!! You can subscribe and listen to all the previous episodes here.  http://bit.ly/CYNarchive1 and http://bit.ly/CYNarchive2 and http://bit.ly/CYNarchive3 and http://bit.ly/CYNarchive4 and http://bit.ly/CYNarchive5
Contact me at YourBestSelfie@CreateYourNow.com
Instagram
@CreateYourNow
@Kristianne Wargo
Twitter
@KristianneWargo
@CreateYourNow
Facebook
www.facebook.com/TheKISSCoach
www.facebook.com/CreateYourNow
Cover Art by Jenny Hamson
Music by Mandisa – Overcomer
http://www.mandisaofficial.com
Song ID: 68209
Song Title: Overcomer
Writer(s): Ben Glover, Chris Stevens, David Garcia
Copyright © 2013 Meaux Mercy (BMI) Moody Producer Music (BMI)
9t One Songs (ASCAP) Ariose Music (ASCAP) Universal Music –
Brentwood Benson Publ. (ASCAP) D Soul Music (ASCAP) (adm. at CapitolCMGPublishing.com) All rights reserved. Used by permission.