Have you ever thought what friendship really means and how you are to love your neighbor? Shawn Smucker shares the story of another man's journey, but what he discovered along the way will surprise you.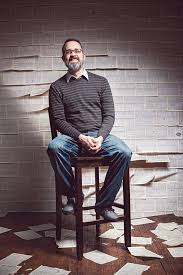 Shawn Smucker is a husband of 19 years to Maile and father to their six children. He is the author of Christianity Today's 2018 Fiction Book of the Year, The Day the Angers Fell, and the book, The Edge of Over There which is the sequel that just released July of 2018.
However, his latest book might be his most compelling book of two fathers on opposite ends of a cultural divide; Once We Were Strangers.
"I realized that I'm a very selfish person basically." ~ Shawn Smucker
Enjoy the multitude of topics discussed including communication, community and coffee.
Thanksgiving
Nights together
Reading
Daily journal practice
Prayer
The Longview
Starting Over
Ghost writing
Internal struggles
Selfishness
True friendship
Communication
Evolution of friendship
The Basics
Community
The Introduction
"Because we're friends now."
Repayment
The Move
Stereotypes
Racism
New neighbors
Security
The Good Samaritan
Who is my neighbor?
The Bigger story
The difference
The importance of people
Coffee
Make time
New friendships
"Be"
Am I willing?
"And the reason I tell this part of the story is because he had such an impact on me right away." ~ Shawn Smucker 
Quotes and statements within the interview:
"I love nights when we're all just home together."
"I always wanted to write a novel, that was kind of my long dream after a Sunday School teacher read The Lion, The Witch, and The Wardrobe to us when I was a kid."
"It was probably the hardest time of our life as far as the circumstances go, but it's pretty cool to see how that led into a really cool thing."
"I wouldn't change anything now."
"So I really expected Once We Were Strangers to basically be Mohammed's story."
"I learned so much about myself through this journey with Mohammed."
"As I became friends with Mohammed, I started to realize what a true friendship looks like and what a true friendship requires of us."
"What's not available is a replacement for the community that most of them have left."
"When they arrive here, they want to work; they want to get jobs."
"Just the past Spring, he and his family moved to Michigan."
"Everywhere I go, even in to some of the scariest parts of the world as far as we would be concerned, all I've ever met are Muslin people who are welcoming and kind and friendly, and excited to meet people from other parts of the world."
"We're called to make these difficult decisions and move into places we're afraid of."
"I think so often, we place ourselves in the positions of certain characters."
"I'm no necessarily the strong one in this relationship."
"This just can't be a project for me. Mohammed deserves more than that."
"There's something about our friendship that is different than any other friendship that I have."
"When you show up at someone's house, you don't just show up and leave."
"We have more time than we think we do."
"It was really just about me being willing to make space for someone else."
What would you tell the person who is struggling with refugees?
Pray for opportunities to cross paths.
"God I can't see my weaknesses, a lot of the time, but help me to meet people who will help me work through these things."
What has your story gifted you?
With new questions
With new fields of myself to explore
"Through this whole thing, I became very much a champion of refugees."
"I need to remain open to listening, even and especially to people I disagree with."
Resources mentioned in the episode:
"One step at a time leads to miles of greatness!"
Ready to see if coaching and a mentorship is for you? It's time you TAKE A.I.M. ~ Action Ignites Motivation. This is FREE for you. Stop trying to do it by yourself. Invest in YOU! You are worth the time!!!
ANNOUNCEMENT: Ready to shine your light and tell your story. Please click on MY STRENGTH IS MY STORY. Here you can submit yourself to appear on the podcast or make recommendations as who you would like to hear. This is going to be a beautiful series!
Subscribe to Create Your Now TV on YouTube.
Listen to Create Your Now on Spotify.
Listen to Create Your Now on iHeart Radio. Click here.
The Create Your Now Archives are LIVE!! You can subscribe and listen to all the previous episodes here.  http://bit.ly/CYNarchive1 and http://bit.ly/CYNarchive2 and http://bit.ly/CYNarchive3 and http://bit.ly/CYNarchive4
Contact me at YourBestSelfie@CreateYourNow.com
Instagram
@CreateYourNow
@Kristianne Wargo
Twitter
@KristianneWargo
@CreateYourNow
Facebook
www.facebook.com/TheKISSCoach
www.facebook.com/CreateYourNow
Music by Mandisa – Overcomer
http://www.mandisaofficial.com
Cover Art by Jenny Hamson