My Strength Is My Story with Ana Levy-Lyons, No Other Gods
Ana Levy-Lyons brings an insightful and fresh perspective of the Ten Commandments in her new book,  No Other Gods.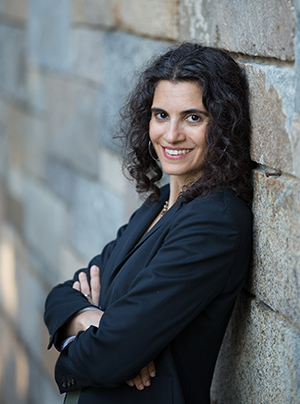 Ana Levy-Lyons: A wife of 11 years and mother to their twins.
Ana is senior minister of First Unitarian Congregational Society in Brooklyn, New York.
She earned her Bachelor's degree of music from Brown University and a Master's of Divinity from The University of Chicago Divinity School.
Ana's career followed a winding path from founding a web start-up to a singer-songwriter.
"It matters what we do, and matters why we do it." ~ Ana Levy-Lyons
Enjoy the multitude of topics discussed including music & nature, micromanaging, the golden calf, and enoughness. Be inspired as the Ten Commandments come alive!
Faith & values
Music & nature
Driving in the city
Jewish heritage
Professor of religion
Unitarian
Dad-Philosophy professor
Mom-Musician
Twins
Ten Commandments
Sermon series
Literary agent
Publisher
Micromanaging
Ethics
Deep personal spiritual level
Build a world collectively
Community
Sweat shops
The Sabbath
YHVH
To Be
The golden calf
No other gods
Support from society
Salvation
Personal struggle
Personal spirituality
Busyness
Overwhelm
Read as blessings
Freedom
Laws of secular society
A woman named Joy
Take and take and take
Limits
Enoughness
Adultery
Lying
Values
"Think globally, but act locally." ~ Ana Levy-Lyons
Quotes and statements within the interview:
"Being in nature is where I feel most connected to God."
"It's like a second mortgage for having a parking spot nearby."
"I wasn't raised with any religion."
"It's about supporting people in their individual spiritual journeys."
"The first couple of years were really, really difficult."
"People initially have either a negative to neutral sort of impression of the Ten Commandments."
"And actually, the Ten Commandments gives us an expansive kind of spirituality-grounded way to live our values in the world and to live deeper, more meaningful lives."
"I feel like God is micromanaging my life and this process."
"There have been a lot of books that have been written about the Ten Commandments as ethical prescriptions."
"The Ten Commandments were spoken in 2nd person singular."
"That sense of the unknowability of God and really the infinite nature of God."
"We all have other gods."
"To discover what they are, I think we need to look at what are we looking to, for a kind of salvation."
"Looking for the approval of others is a tough one for me; as a minister, as a woman."
"Your inner spiritual journey has powerful ramifications in the world."
"And as we're always going towards the center of connection with God and not that it's a pass or fail test."
"That's one of the misunderstandings of the modern world, where we believe that when we let go of religious laws, that therefore we're free."
"But actually, if you do keep these arbitrary laws, you actually find a huge freedom in that from the laws of our secular society."
"They would reach their Sunday nights with anxiety, they'd be stressed our even though they had gotten more done."
"You are giving up certain freedoms, but you're also gaining something immeasurable that you really can't get any other way."
"We need to feel that we have enough."
"So all of the commandments are a little bit about kind of staying in our lane and having gratitude for the gifts and abundance that we already have."
 What has your story gifted you?
"The story of my life and particularly the story of how this book came to be has given me so much trust."
"God is micromanaging my life."
Resources mentioned in the episode:
"One step at a time leads to miles of greatness!"
Ready to see if coaching and a mentorship is for you? It's time you TAKE A.I.M. ~ Action Ignites Motivation. This is FREE for you. Stop trying to do it by yourself. Invest in YOU! You are worth the time!!!
ANNOUNCEMENT: Ready to shine your light and tell your story. Please click on MY STRENGTH IS MY STORY. Here you can submit yourself to appear on the podcast or make recommendations as who you would like to hear. This is going to be a beautiful series!
Subscribe to Create Your Now TV on YouTube.
Listen to Create Your Now on Spotify.
Listen to Create Your Now on iHeart Radio. Click here.
The Create Your Now Archives are LIVE!! You can subscribe and listen to all the previous episodes here.  http://bit.ly/CYNarchive1 and http://bit.ly/CYNarchive2 and http://bit.ly/CYNarchive3 and http://bit.ly/CYNarchive4
Contact me at YourBestSelfie@CreateYourNow.com
Instagram
@CreateYourNow
@Kristianne Wargo
Twitter
@KristianneWargo
@CreateYourNow
Facebook
www.facebook.com/TheKISSCoach
www.facebook.com/CreateYourNow
Music by Mandisa – Overcomer
http://www.mandisaofficial.com
Cover Art by Jenny Hamson