My Strength Is My Story with Katie Farrell, Nourish.
Katie Farrell shares how she broke free from eating disorders by renewing her mind with the word of God in her new book, Nourish: Discover God's Perfectly Balanced Plan for Your Body and Soul.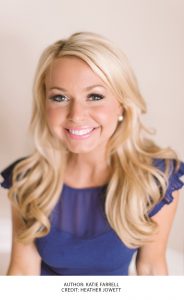 Katie Farrell, RN:  She is a wife of 8 years to her high school sweetheart, Sean. And is now a brand new mommy to Madeline Joy.
Katie is the author of Dashing Dish Cookbook and the owner of Dashing Dish Inc., a web-based nutrition business and ministry.
As a Labor & Delivery nurse, wife, and mom, she teaches how to replace your lies with spiritual truths.
"If you are seeking truth in His word, you will find it." ~ Katie Farrell, RN
LIFE VERSE: "Don't be conformed to the patterns of this world, but be transformed by the renewing of your mind. And then you will know God's good, acceptable, and perfect will for your life." ~ Romans 12:2
Enjoy the multitude of topics discussed including balance, fuel for your body and soul, lies, and truths. May your heart be filled with hope and encouragement!
New mommy
Joy
Laundry
The Move
High School
The first day of school
The distorted picture
Insecurity
Identity
Body image
Lies
Scriptures
Prayers
Comparison
Jealousy
Thoughts
Seasons
Gratitude
Eating Disorders
Anorexia
Counseling
The Holy Spirit
Butterflies
Life Verse
Transformation
Nursing School
Cooking
Tastebuds
Dashing Dish
Ministry
New Moms
Beauty for Ashes
Hope
Balance
Putting God first
Fuel your bodies healthy
Lies vs. Truths
Remembrance
"God showed me how my life was like a butterfly." ~ Katie Farrell, RN
"How beautiful you are, my darling; there is no flaw in you." ~ Song of Solomon 4:7
Quotes and statements within the interview:
"She is such a gift from God."
"I didn't even know that cows existed just all over the place."
"I was looking for someone to sit with, trying to find friends that would take me in."
"Suddenly my eyes became open to how I looked in my physical body."
"Remember moments in your life that you distinctly remember."
"I didn't really know how to take the words of someone else that were spoken to me and separate that from what God says about me until I was older."
"Lies are anything that is not lining up with God's word."
"Where did I even get into that trap of jealousy?"
"And you know I had to also remind myself, I'm at a different season."
"That's one of the remedies I am so convinced will automatically grab us out of that comparison mode is gratefulness."
"It definitely was that lie that was painted on the inside of me. It was like an image that was painted on my heart just from what that one boy spoke."
"I was really good at hiding it."
"They (My parents) did all of the right things for sure!"
"I believe so strongly in the power of prayer even if it doesn't seem like anything is working or like anything's happening."
"At that moment, I was set free from eating disorders."
"Our bodies are so complex and wonderful. And it's not something that we can just take for granted. We have to honor our bodies and really use them to serve the Lord, because He's given us this incredible body and it does so many amazing things."
"I never even cared about cooking. I never enjoyed it."
"How can I nourish my body with my favorite flavors in a healthier way?"
"We all can encourage others in places that we have been there ourselves."
"God is the great Redeemer."
What can a parent of a teen do for those struggling with body image?
Start to esteem them in who they are in Christ.
Tell them what God says about them.
How to guard their heart.
To the teen who is hurting…
Go find in the word of God scriptures and promises of what He things about you and what He says about you.
Pray for direction.
What is your hope the reader will gain?
Hope
Encouragement
Health for your body and soul
What has your story gifted you?
A revelation of who God is.
God's character and His nature.
An intimacy with God.
"God has shown Himself so faithful to me."
Resources mentioned in the episode:
"One step at a time leads to miles of greatness!"
Ready to see if coaching and a mentorship is for you? It's time you TAKE A.I.M. ~ Action Ignites Motivation. This is FREE for you. Stop trying to do it by yourself. Invest in YOU! You are worth the time!!!
ANNOUNCEMENT: Ready to shine your light and tell your story. Please click on MY STRENGTH IS MY STORY. Here you can submit yourself to appear on the podcast or make recommendations as who you would like to hear. This is going to be a beautiful series!
Watch CREATE YOUR NOW TV on YouTube.
Listen to Create Your Now on iHeart Radio. Click here.
The Create Your Now Archives are LIVE!! You can subscribe and listen to all the previous episodes here.  http://bit.ly/CYNarchive1 and http://bit.ly/CYNarchive2
Music by Mandisa – Overcomer
http://www.mandisaofficial.com
Cover Art by Jenny Hamson