My Strength is My Story with Ashley Reitz, You Are Beautiful: A Model Makeover from Insecure to Confident in Christ.
Ashley Reitz, an international curve model, author, and a guest starring in a dating reality show (Coupled) shares how she goes from insecure to confident in Christ found in her new book, You Are Beautiful.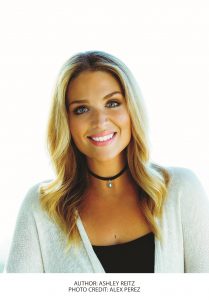 Ashley Reitz:  An international curve model who found herself in the spotlight after attending beauty school where Elite Model Management discovered her. She's appeared in Seventeen magazine along with national ad campaigns for Avon, Saks Fifth Avenue, and David's Bridal. Ashley has been an ambassador for the popular movement, Health is the New Skinny.
Her greatest passion is speaking to young women about self-worth, identity, beauty, dating, purity, and the joy that only comes from knowing Christ.
"We serve a God who's always at work."
~ Ashley Reitz
Enjoy the multitude of topics discussed including the model industry, being enough, a dating reality show, and insecurity. And always remember, you are beautiful!
Move: Florida to Michigan
What's next?
New Book
Childhood
Insecurity
Reflection/Evaluation
Middle Child Syndrome
Perfectionism
Anorexia
Do it myself
Pastor's daughter
Pressure
Level of expectation
Satisfaction
Young 20s
Negative mindset
Curve model
The Model World
The idea of perfection
Fluctuation
Ruled by the numbers
Stretch marks
Older women
Self worth
Belonging
Who am I?
Psalm 139
Unseen
Encouragement
The Fashion Show
Mission Out
Big Dreamer
The NO!
Two little girls
Slide
Abuse
Influence
Hope
Surrender
Coupled produced by Mark Burnett
Dating Reality Show
Heart's desire
"We are worthy of attention. We are worthy of praise."
~ Ashley Reitz
Quotes and statements within the interview:
"As a Christian, we do focus on the future and the eternity."
"What are the things I wish that I knew back then or had more security in back then even as a kid."
"I cam from a very loving home. I was taught about Jesus and that I was loved and all those things. But for whatever reason, I just really struggled with insecurity and always struggling never feeling like I was enough."
"It starts as early as little tikes."
"I just felt lost in the mixture of all of that."
"I was just kind of me."
"I learned a lot of lessons just by having a lot of different opinions from a church congregation."
"Lord, just help me to overcome this."
"We can look at what's going on in the industry and see a lot of progress, and a lot of really great things that are happening."
"As a rule and what we're used to, the modeling industry puts this idea of perfection in front of us and a lot of times, it's just so unachievable."
"We're bombarded with that message of here's what we're suppose to look like if you want to be happy, if you want to be desired, if you want to be beautiful."
"Celebrate what God has given you in that moment."
"Beauty comes in just all different shapes, sizes, looks, colors, everything."
"When we forget who we are, we can go back and it's just like kind of leaves you in awe!"
"Those little signs that we do wear, they're not going to be so pronounced in our life when we are getting encouragement from one another."
"I see you."
"God uses a lot of those stories throughout our lives and when we look back, we can see like 'Wow! That's God's fingerprint.'"
"God works even in the NOs!"
"Things like this don't happen to girls like me."
"He can build you up and bring you to a place that you've never been when it comes to your view of yourself."
"God called me to write a book to share these hard things that maybe make me feel really vulnerable and that can be hard to talk about. But they're real, and they're honest."
"God was melting the parts of my heart that were just like ice."
"Surrender to somebody who is not a Christian; it's almost seen like… Uh! But I don't want to. It's a task, something you're giving up. It is something you have to sacrifice."
"In this setting, I really have to consistently rely on Christ for that foundation like we talked about."
"I would spend time in prayer."
What advice would you give a mom who has a teen or college student who's struggling with self worth?
Put time into really learning who you are in Christ and really finding that peace and that freedom in God, allowing Him to be the one to give you that constant flow and filling up of like who we are in self worth and feeling loved.
What has your story gifted you?
God's love
God is all we need.
"God has shown me through the story, proven His love and proven that He can be all that we need regardless of the things that happen, regardless of the struggles."
"God can take anything that is broken. He can make it beautiful and He can transform any story. So regardless how much you struggled, or have been insecure, or never felt enough — He can take you and make you feel like a princess and give you an incredible confidence."
Resources mentioned in the episode:
"One step at a time leads to miles of greatness!"
Ready to see if coaching and a mentorship is for you? It's time you TAKE A.I.M. ~ Action Ignites Motivation. This is FREE for you. Stop trying to do it by yourself. Invest in YOU! You are worth the time!!!
ANNOUNCEMENT: Ready to shine your light and tell your story. Please click on MY STRENGTH IS MY STORY. Here you can submit yourself to appear on the podcast or make recommendations as who you would like to hear. This is going to be a beautiful series!
Watch CREATE YOUR NOW TV on YouTube.
Listen to Create Your Now on iHeart Radio. Click here.
The Create Your Now Archives are LIVE!! You can subscribe and listen to all the previous episodes here.  http://bit.ly/CYNarchive1 and http://bit.ly/CYNarchive2
Music by Mandisa – Overcomer
http://www.mandisaofficial.com
Cover Art by Jenny Hamson