My Strength Is My Story with Candace Payne, Laugh It Up!
Candace Payne, aka Chewbacca Mom, shares how to embrace freedom and experience defiant joy in her new book, Laugh It Up!.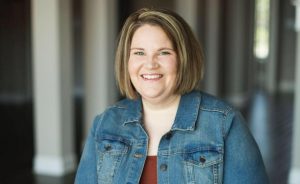 Candace Payne:  A wife and mother of 2 who found her joy going viral all because of laughter and a Chewbacca mask. After being thrown in the limelight, she realized how all the God winks led her to where she was that day. For those who desire to go deeper, Candace also wrote a companion study guide: Defiant Joy Study Guide: What Happens When You're Full of It.
"Joy is something that is necessary to survive." ~ Candace Payne
Enjoy the multitude of topics discussed including chili, pugs, shame, yoga pants, and trust. Get ready to renew your mind and experience defiant joy!
Joy Jar
Writing & Speaking
Pugs
Sock & Crockpot
Me time
The fight
Joy
Shame
Guilt
Abundant Life
"Should be"
Mindset
Bad days
Failure
Struggles
Comparison
Yoga pants
Self deprecation vs. Self aware
Beauty queens
Jacob and Esau
"Enough"
Value of Fun
What is my voice?
Psalms
Barnes & Noble tears
Gratitude
$20.00
Simple Obedience
Trust
The Sceptic & Cynicism
Four Seasons
Suicide
Robin Williams
Expectations
Later-Hater
Isolation
#nailedit
Mental Health
Faith
Trust
Defiant Joy
Junk of Life
Chronic Case of Mondays
How do you get that joy in your life?
Defiant Joy study
"Joy is a fountain, not a bucket!" ~ Candace Payne
Quotes and statements within the interview:
"I don't even know what we're thinking in the middle of our life right now."
"You know what happens when we assume?"
"The reality is, I was living off of gift cards and return purchases."
"I've had to fight for every ounce of joy that I have and I have to fight daily to maintain it."
"Shame is something that I feel like we don't address and we don't call out on the carpet."
"So, you have to flip the script."
"It's a way different mindset when you start speaking to yourself thoughts of purpose, hope, and joy."
"And then you're sitting there before you now it, in an instance, what turned from hallelujah turns to yelling your kids out."
"Sometimes, I think I'm allowed to just remember what it feels like to walk in failure."
"Until we see Jesus face to face, we are gonna constantly struggle with our flesh."
"Yoga pants are a mystery to me this day even."
"Where do I measure up? What is my worth?"
"That's a reflection of the work you've put in, but it isn't your value."
"I had undervalued being the fun!"
"I was trying so hard to be this mold that I wasn't fitting in as well."
"I felt as though something was happening."
"I was negotiating with the Holy Spirit."
"This was simple acts of small obedience over and over and over again."
"I know. I've not naive. I know that you have to be the one that believes it and does the work."
"Give it four full seasons. One full year out of your life where you're gonna be a fool and believe everything foolish."
"I think that some people that carry the banner of being the fun, are hiding a lot more behind the smile that's half broken."
"But I also don't salt and pepper Him as though His name is careless on my tongue."
"God is the one who draws all men to Himself."
"We would all serve ourselves very well to just believe what we read and to trust that the Holy Spirit is gonna interpret for His good."
"I however have intentionally chosen to make my life a place that is peaceful and filled with happiness."
"If you get to the point where you can teach it, you can live it."
How do you begin to remove the mask?
"Anything that prevents you from taking a step when you know you naturally should."
What has your story gifted you?
"Own who I am and not be ashamed or worried with who I am."
"I feel good in my own skin."
Resources mentioned in the episode:
"One step at a time leads to miles of greatness!"
Ready to see if coaching and a mentorship is for you? It's time you TAKE A.I.M. ~ Action Ignites Motivation. This is FREE for you. Stop trying to do it by yourself. Invest in YOU! You are worth the time!!!
ANNOUNCEMENT: Ready to shine your light and tell your story. Please click on MY STRENGTH IS MY STORY. Here you can submit yourself to appear on the podcast or make recommendations as who you would like to hear. This is going to be a beautiful series!
Watch CREATE YOUR NOW TV on YouTube.
Listen to Create Your Now on iHeart Radio. Click here.
The Create Your Now Archives are LIVE!! You can subscribe and listen to all the previous episodes here.  http://bit.ly/CYNarchive1 and http://bit.ly/CYNarchive2
Music by Mandisa – Overcomer
http://www.mandisaofficial.com
Cover Art by Jenny Hamson