Every day we need a reminder to just be YOU! There is no substitute or better solution to what YOU bring to the world. You're a one of a kind!
Just be YOU!  A once in a lifetime opportunity to soar on wings that were created only for you to fly.
Desire to be supported and encourage by other like-minded women? Join us at Women of IMPACT. http://facebook.com/groups/thewomenofimpact
You know my love for football. Yesterday was the CFP National Championship 2019 between #1 Alabama and #2 Clemson. Now that the college season is over, it's all about the NFL playoffs followed by the Super Bowl.
You may not be a sports fanatic or have any interest in football. However, there is one coach that is teaching beyond the field.
Coach Matt Nagy, the head coach for the Chicago Bears, has on his play card to "BE YOU!". (see the picture here) Credit: Ben Volin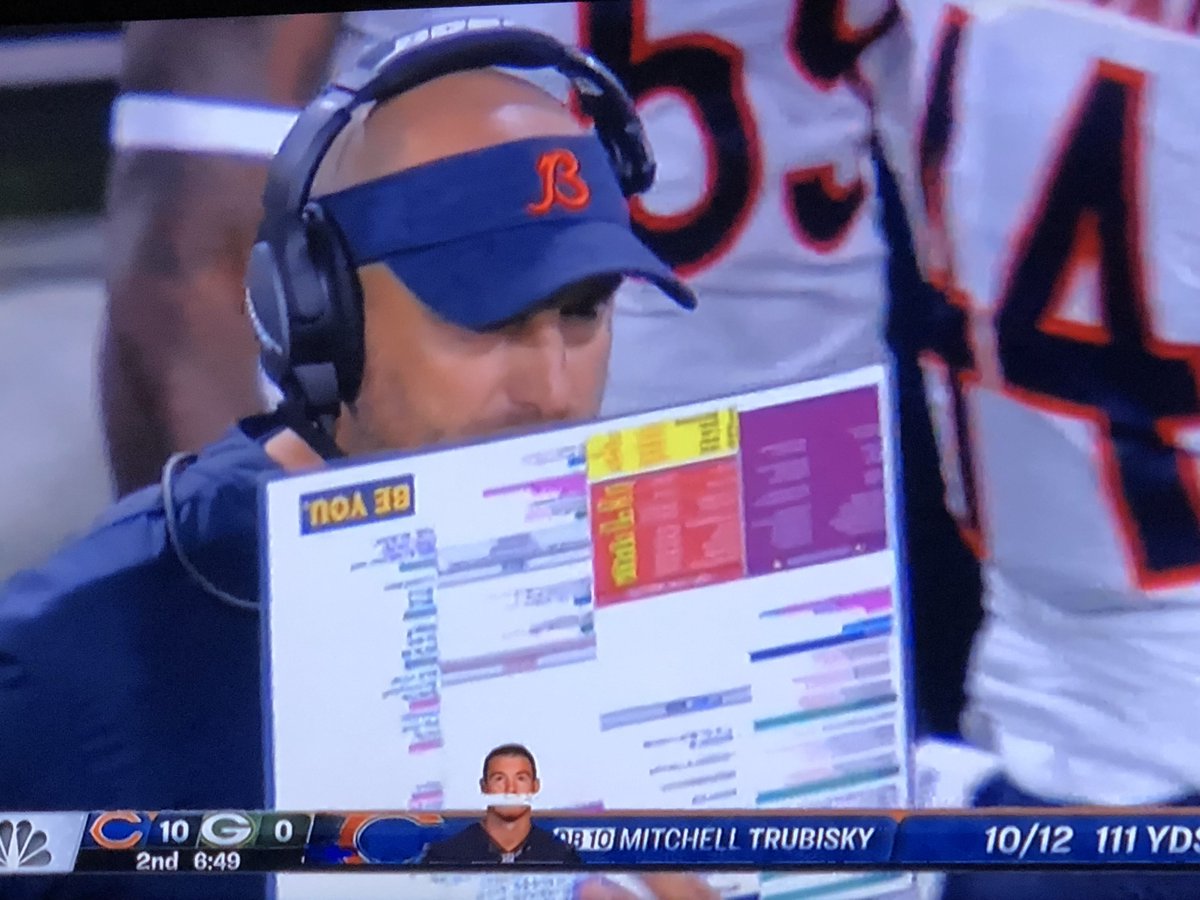 "We all got here our own ways," Nagy said. "We created our own paths. What can happen, as a player, is you think you need to maybe try a little harder, you may have to act a little different — don't do that. Just be yourself. Do what got you here. As coaches, don't change. If you have a certain style of teaching, then teach that way. Don't change because now you're in the NFL."
Credit: Adam L. Jahns with Chicago Sun Times
Are you trying to be someone else? Chasing the way others do things?
Just be YOU!
What would happen if your play card had "Just be YOU!" written all over it?
Imagine the game changer in your life when you stop following what others seek for you, and seek what God's creating in you.
The K.I.S.S. ~ Just be YOU!
Face your fears. Chase your dreams. Climb the mountain like you know how.
"One step at a time leads to miles of greatness!"
Banish second guessing and walk by faith. Celebrate the little things as they all lead to your miles of greatness.
Know that valleys will appear and your journey will be challenged. Don't let that stop you.
Create your now!
"Be present. Be incredible. Just be YOU!"
TAKE A.I.M. ~ Action Ignites Motivation  – This is a complimentary (FREE) coaching call with me. You will be able to discuss your specific situation and gain tools and strategies to move you forward.
Live. Love. IMPACT! 
"One step at a time leads to miles of greatness!"
Subscribe to Create Your Now TV on YouTube.
Wanting help with goals, setting your schedule, or need someone to talk to (even if you don't know what you need)? It's time you TAKE A.I.M. ~ Action Ignites Motivation. This is FREE for you. Stop trying to do it by yourself. Put YOU first! Become your best selfie so you can live your life's purpose.
ANNOUNCEMENT: Ready to shine your light and tell your story. Please click on MY STRENGTH IS MY STORY. Here you can submit yourself to appear on the podcast or make recommendations as who you would like to hear. This is going to be a beautiful series!
Subscribe to Create Your Now TV on YouTube.
Listen to Create Your Now on Spotify.
Listen to Create Your Now on iHeart Radio. Click here.
The Create Your Now Archives are LIVE!! You can subscribe and listen to all the previous episodes here.  http://bit.ly/CYNarchive1 and http://bit.ly/CYNarchive2 and http://bit.ly/CYNarchive3 and http://bit.ly/CYNarchive4
Contact me at YourBestSelfie@CreateYourNow.com
Instagram
@CreateYourNow
@Kristianne Wargo
Twitter
@KristianneWargo
@CreateYourNow
Facebook
www.facebook.com/TheKISSCoach
www.facebook.com/CreateYourNow
Music by Mandisa – Overcomer
http://www.mandisaofficial.com
Cover Art by Jenny Hamson
Photo by  Tommy Lisbin on Unsplash