My Strength is My Story with Katie Davis Majors, Daring to Hope: Finding God's Goodness in the Broken and the Beautiful.
Katie Davis Majors, a woman on a mission with a heart of gold for Uganda, shares her strength in the stories found in her new book, Daring to Hope: Finding God's Goodness in the Broken and the Beautiful.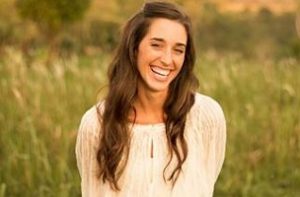 Katie Davis Majors: She is a wife to Benji and a mother to 14 children. Over a decade ago, she founded of Amazima Ministries in Uganda that cares for vulnerable children and families. Katie is an author of her New York Time Bestseller, Kisses from Katie, with her newest book, Daring to Hope: Finding God's Goodness in the Broken and the Beautiful.
"I fell in love with the people. I fell in love with the culture."
~ Katie Davis Majors
Enjoy the multitude of topics discussed including high school, the baker's dozen, a bathroom, and a love story. Get ready to take a leap…daring to hope with all your heart!
High School mission trip
Orphanage
Family lacking
Amazima Ministries
The burden of school
Empower the parents
Vocational training
Mentors
New High School
Relational Influence
British Grading Scale
Rote memorization
Leadership
Homeschool
The Baker's Dozen
Jane and the return of her mom
Write the ending
The Bathroom (Prayer Closet)
Obedience
Compassion
Katherine
Angry
Comfort, Grace, and Freedom
Pain
Presence
Benji
Men's Ministry
Marriage
Unshakeable Hope
Carve out time
Psalm 63
Quiet Time
Prayer
Faithfulness
Public Ministry vs. Private Ministry
The little things
Noah
Security
Love
Rainbows
Why did you write the book?
"I have to glorify God in the small things."
~ Katie Davis Majors
Quotes and statements within the interview:
"Today, Amazima Ministries sponsors 600 children."
"Our desire is really to empower their parents."
"It's been really amazing to watch the way God has grown our ministry."
"And they (72 high school students) are all learning to think critically and learning to be creative, and just so much more than that really being discipled and poured into every single day by an amazing group of teachers and staff."
"You don't pass the grade if you don't pass your end of the tests."
"At the Amazima School, we really want to teach children to be leaders and with that comes a good deal of creativity and a good deal of courage."
"God is so gracious."
"This is my child. This has been my child for so many years now."
"I think that was the first time that I really felt like God didn't hear me."
"We don't alway get to see that (writing the end you want)."
"It was my mission to support that family being together, and not them being apart of our family."
"So the bathroom kind of became my prayer closet."
"Just our of habit, I would kind of find myself in the bathroom because that had become my prayer spot."
"God gives you what you need."
"I really do believe that when we're obedient to follow what He's asking of us, whether that is something very simple or something very unusual, He gives us what we need to do it."
"I was angry at God for not answering me."
"He wasn't surprised by my doubt."
"I think I got to see His heart in a whole new way."
"God gave me different eyes for him (Benji)."
"…be loved by an earthly father who's such a reflection of their Heavenly father. "
"It really helps me move from a posture of thinking that prayer has to be in a certain way at a certain time."
"God gave me the scriptures to weave into it."
"A lot of my ministry was right there in my home."
"How we spend our days is how we spend our lives." ~ Francis Chan
"You're going to have to give me the words."
What has your story gifted you?
Faith
A relationship with Jesus
Thankful
"A faith and a relationship with Jesus that I probably never could have imagined at the beginning."
"God has shown Himself to me in so many beautiful ways."
Resources mentioned in the episode:
"One step at a time leads to miles of greatness!"
Ready to see if coaching and a mentorship is for you? It's time you TAKE A.I.M. ~ Action Ignites Motivation. This is FREE for you. Stop trying to do it by yourself. Invest in YOU! You are worth the time!!!
ANNOUNCEMENT: Ready to shine your light and tell your story. Please click on MY STRENGTH IS MY STORY. Here you can submit yourself to appear on the podcast or make recommendations as who you would like to hear. This is going to be a beautiful series!
Watch CREATE YOUR NOW TV on YouTube.
Listen to Create Your Now on iHeart Radio. Click here.
The Create Your Now Archives are LIVE!! You can subscribe and listen to all the previous episodes here.  http://bit.ly/CYNarchive1 and http://bit.ly/CYNarchive2
Music by Mandisa – Overcomer
http://www.mandisaofficial.com
Cover Art by Jenny Hamson