My Strength is My Story with Edie Littlefield Sundby, The Mission Walker. A true fighter and spirited woman, who shares her story about her battle and mission after being diagnosed with Stage 4 cancer in her new book, "The Mission Walker".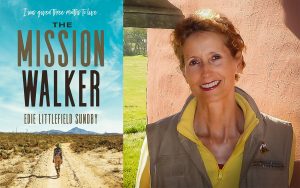 Edie Littlefield Sundby: A wife to Dale of 42 years, a mother of two beautiful daughters and two daughters gifted to them when her brother passed away. Edie and her husband are entrepreneurs with a spirit to conquer.
God gave Edie the strength, courage, and acceptance to provide a way through her journey with cancer. Little did she know how the El Camino Real Mission Trail would lead her to more freedom, drawing her closer to God knowing all is well.
"If I can move, I'm not sick." ~ Edie Littlefield Sundby
Enjoy the multitude of topics discussed including cancer, the mission bells, acceptance, and mystery. Let's go deeper with family, love, knowing all is well.
Walking
The Wonder
A Stranger's news
"You have cancer."
Has it spread?
A 7 inch tumor
Visualization
Connect to God
The Mission Bell
Cry out and Mercy Prayer
Entrepreneurs
Facts on the ground
The Cotton Farm & Family
Freedom to live
Filthy Fifties
God, the provider
My Mother's Bible
A Solid Foundation
My Body
Arrogantly Healthy
Accelerated Death Benefit Rider
Palliative Care
Dr. George Fisher
Control of Symptoms
Anticipated Grief
God's Medicine
Walking and Gospel Music
Fear Battles
Overflowings
Emotional Ashes
El Camino Real Mission Trail
Loreto 1697
Cancer return
Ron Graham & QRandom Theory
Walking
Insights
Movement
Lance Armstrong
Multiple Surgeries
Dr. Jeffrey Norton, Stanford Cancer Center
Mules & Desers
I lost fear!
The Walker and the Saint, Wall Street Journal
W Publishing and Thomas Nelson
Amazon Fresh
Writing & 90,000 words
Drugs
Anticipatory Grief and Fear
All is Well
God's Whispers
Wisdom Teachers
Hardships and Smacks
Trust
Thank you, dear Lord.
Dear Lord, please have mercy on me.
"Astonish me!" ~ Edie Littlefield Sundby
Quotes and statements within the interview:
"More than anything else, it keeps my spirit inflated."
"Every day is a bonus day."
"I was shocked but not surprised."
"Sometimes it's easier when you're by yourself."
"That's whey I love to walk; it allows you to process things slowly especially when they're coming at you a thousand miles an hour."
"Anything you can do to physically and visualize and get ahold of just to quiet, quiet the panic."
"In the silence is where I find God."
"Please Lord have mercy on me."
"Acceptance means you deal with it. It is what it is."
"When you are with God, the deepest and strongest and the most connected is when you have to deal with it. You're not alone ever."
"Our own expectations are always so much greater than anyone else's"
"You deal with it, with acceptance."
"The God that I was raise with was there."
"I knew that I wasn't holding mother's Bible close to me. I was holding momma close to me."
"God made us out of love."
"Your body is the temple of your soul. and to treat it accordingly."
"I was arrogantly healthy."
"Cancer is a mystery. No one really understands life. No one really understands the mystery of God."
"I have no idea why I'm alive. It's all of God's medicine."
"Pour out the emotional overflowings and feel with spiritual grace."
"I knew I was going to walk one step at a time one day at a time and trust in God to decide how long and how far."
"The mission trail didn't start in California. It started in Loreto, Mexico."
"Every block is a walk of faith. Every day is a walk of faith."
"In life, we walk alone together."
"On QRandom that says nothing is random; everything is interconnectedness between all events. And to me that is spirit; to me that is mystery; to me that is God."
"Walking slows life down."
"It was transcendent."
"The more you walk, the more you connect."
"We are meant to move spiritually. We are meant to move emotionally. We're meant to move physically."
"We have the power within to control fear."
"Walking has it's own rhythm. Writing has it's own rhythm."
"God is saying to us, 'All is well.' Regardless of what's happening, all is well."
"Walking allows me to unwrap that present very, very slowly."
"When life hits us with a curve ball, let it stun you. Let is knock you down, just don't let it knock you out!"
"It's when we're wasted, we need the Lord."
What has your story gifted you?
"My story reconnected me with my mother and my father… These roots that they provided me at an early age saved my life. Their faith saved my life."
Resources mentioned in the episode:
"One step at a time leads to miles of greatness!"
Ready to see if coaching and a mentorship is for you? It's time you TAKE A.I.M. ~ Action Ignites Motivation. This is FREE for you. Stop trying to do it by yourself. Invest in YOU! You are worth the time!!!
ANNOUNCEMENT: Ready to shine your light and tell your story. Please click on MY STRENGTH IS MY STORY. Here you can submit yourself to appear on the podcast or make recommendations as who you would like to hear. This is going to be a beautiful series!
Watch CREATE YOUR NOW TV on YouTube.
Listen to Create Your Now on iHeart Radio. Click here.
The Create Your Now Archives are LIVE!! You can subscribe and listen to all the previous episodes here.  http://bit.ly/CYNarchive1 and http://bit.ly/CYNarchive2
Music by Mandisa – Overcomer
http://www.mandisaofficial.com
Cover Art by Jenny Hamson